The "road" to our land has been flooded for ages now. Mom's acquisition of a truck had made this far less of a problem... then yesterday and today a fellow with a bulldozer (hired by someone else who owns land down that "road") attempted to fix the flooded area. Unfortunately, he apparently didn't have any idea how to fix the road. Yesterday, mom was getting ready to leave the land shortly after he'd started working on it. He encouraged her to go through an area that he had finished, and her truck promptly sank into the muck, and she had to be towed out. Dumping loose dirt into water just creates mud! Apparently bulldozer guy didn't quite understand that. We got out there this morning to discover that things were even worse. We actually had to walk out to the land, squishing through the muck. When we were finished, mom finally gave in and bought a dump truck full of crushed rock. It still has to be spread. We're hoping bulldozer guy will be able to do that without royally messing it up. We might need to buy another load. We'll see.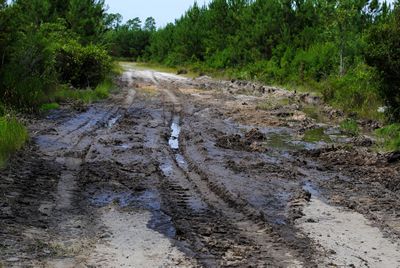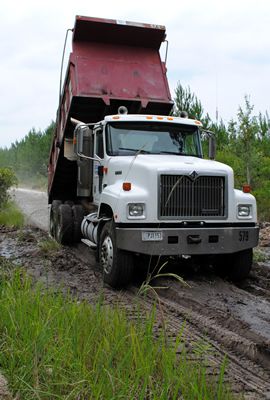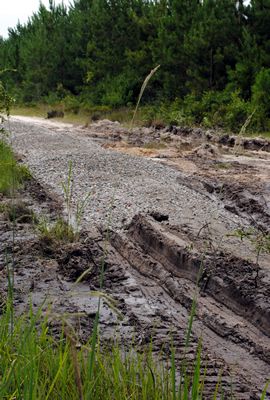 It didn't cover the whole area, but we're hoping it will when it's spread.
This afternoon we took SugarPie (the kitten we found on July 5) as well as Blondie and Trixie (found just the other day) to the vet for their shots... then afterwards mom took Trixie to her new home - adopted already!!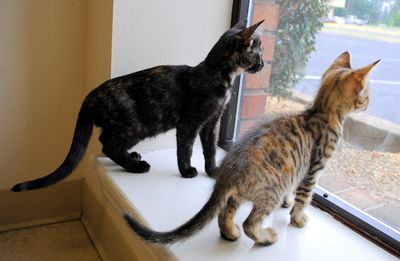 SugarPie and Blondie
Trixie - who has been adopted!
Tomorrow Charlie, Mochi, and I will move to Orlando. My internet and cable are not going to be turned on until August 6th :( I'm sure I'll be camping out at the nearest Starbucks for the wireless, but I'm not sure if I'll be blogging until I'm online at home. So if you don't hear from me over the next week, that's why.