Charlie, Mochi, and I have been in Orlando since last Wednesday, although I have only just gotten my internet turned on. It is incredibly fast - near Korean speed. I haven't had internet in my house since leaving Korea. While I was in Georgia, I used my mom's internet connection which was, shall we say, really freakin' slow. I've been a little giggly over the absurdly wonderful high speed connection I now have. Anyway, the beasts and I arrived at our new home last Wednesday afternoon, and I have since been unpacking as well as purchasing and assembling furniture. I think I've bought everything I need/want, although it will take a while before the place starts looking more homey. Still, it's coming along nicely. My roommate will be arriving either tomorrow or Wednesday, which should help make the place seem more lived in as opposed to a cavernous place with sparse furnishings. Of course, poor Charlie is going to be terrified by living with a stranger, but I suspect she'll learn to deal. Or she can just hide in my room, which is pretty much what she does anyway.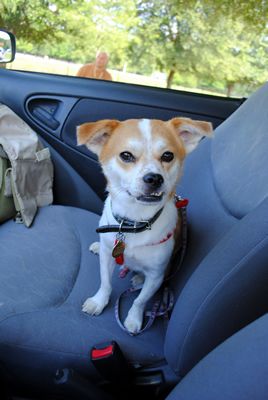 Mochi on the way to Orlando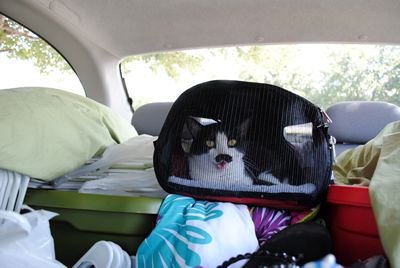 Charlie didn't enjoy the trip down quite as much as Mochi did.
My living room (couch and tv stand donated by my father)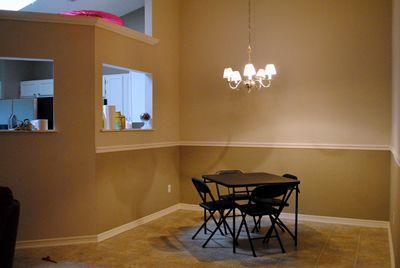 Dining room - ok, so that's a WalMart card table and chairs set, but it was the cheapest thing that I could both find and fit into my tiny car.
The kitchen is quite nice. A pity I'm a shit cook.
Charlie loves getting up here.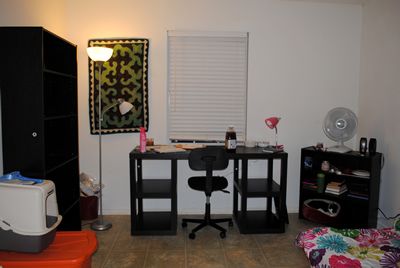 My bedroom is coming along nicely. Unfortunately the futon mattress and frame shipped separately, so my mattress is on the floor waiting for the frame. Also, I ordered the cheapest WalMart futon I could find ($99 plus free shipping) which seemed like a great deal until I tried to sleep on it. Really not very comfortable at all. Sigh.
My bathroom
The neighbors have three cats that go outside. This one is named Toby. He likes to sit outside and chat with Charlie.
Charlie and her new boyfriend :-)
There is a dog park a block and a half from my house! Mochi really enjoys it, although I swear the local weather gods wait until I'm there and on the far side of the park to unleash a torrential downpour. Mochi and I have been completely drenched there twice now.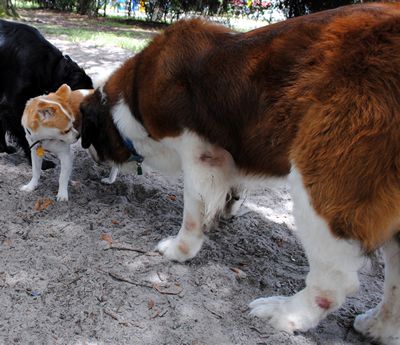 Mochi also met this behemoth, which unfortunately was obsessed with licking Mochi's crotch. At first it was kind of funny, but after the first 15 or so minutes, it was freaking Mochi out (not to mention disturbing me). I'm new to the whole dog park scene. When the dog's owner is watching and doing nothing, at what point is it acceptable to yell at either him or his dog? In the end, I just picked Mochi up and carried him to a different part of the park.