Yesterday my mom and I loaded her two kayaks into the back of her truck, and drove down to the GA/FL border to kayak along the St. Mary's River. Logistically it was a tad complicated, as we had to leave my car at the take-out at Scott's Landing in Boulogne, FL, then head back north with the truck and kayaks to the Traders Hill Boat Ramp just south of Folkston, GA. The trip from Traders Hill to Scott's Landing is 5.25 miles, which we covered in a leisurely 2.5 hours. We stopped to swim at a lovely sandbar, and hopped out to picnic at a private boat ramp just west of US-1. The day was gorgeous, if rather too hot. I didn't take my DSLR (having just had it re-built after getting it water-logged), but I did bring my point-n-shoot, so you can see where we went.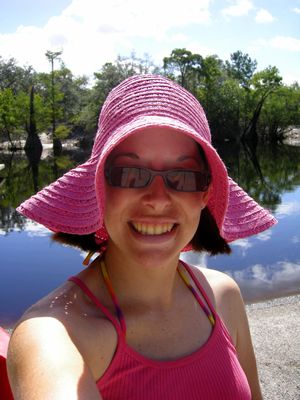 Yes, the hat is ridiculous, but in this sunlight, it was wonderful.
My kayak at the Traders Hill boat ramp
View from the Traders Hill boat ramp
There's my mom!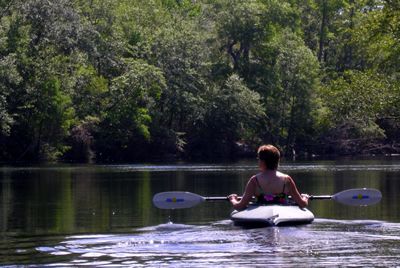 We stopped at an excellent sandbar to swim.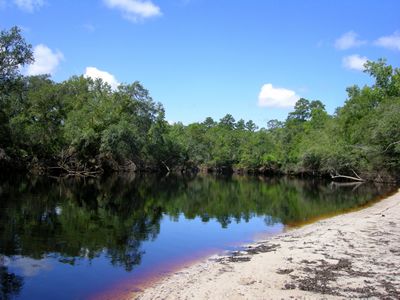 Railroad bridge
Approaching US-1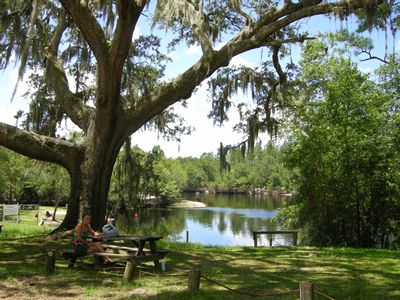 My mom at the takeout point at Scott's Landing