I'll start this post off by letting you all know that I still don't know if I'll be working in Seoul or not... I was told I'll find out "by next Friday at the latest." This is a little maddening! Ahh well.

I left Daegu Wednesday night after I got off work, and arrived in Seoul a little after 12:30am. This being Korea, land of
the love motel
, I rather expected to see one immediately upon emerging from the train station. (I mean, you exit Busan Station, and just about all you see are love motels.) I walked out the first exit I came to... and saw nothing of the sort. No glowing cheap motel sign glimmering in the distance. I figured I'd walk a ways to see if I could spot one, thinking that if I couldn't, I'd go back into the station and pop out another exit, and failing that, I'd get a taxi.

I'd walked about two minutes, when the skies let loose with a torrential downpour. I was soaked before I got my umbrella up. And then, out of the corner of my eye, down a narrow, winding alley I saw a dingy sign reading 여관 (yeogwan). A
yeogwan
is a Korean cheap motel, a step (or so) down from a love motel. I promptly went inside. As long as it was dry and had a spare bed, I'd stay there.

When I asked if there were any rooms available, the woman at the front 'desk' initially began to answer me in English, "Yes. Twenty-five...." then she paused, looked me up and down, and apparently decided that I was not an English speaker. She continued on in very slow Korean "eee-man-ohh-chon." For ₩25000 (roughly $25), I got a dry, private room in probably the seediest place I've ever stayed: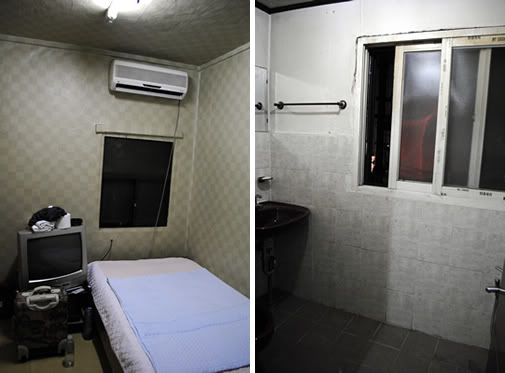 The rain continued to pour all night, beating on the window right above the bed. It was still raining when I woke up... Still, I was up and dressed bright and early, as the yeogwan wasn't exactly the sort of place I felt like hanging out, rain or not. Amazingly, however, the rain had tapered off by the time I left. I went to the train station and stashed my suitcase in one of the coin lockers, then hopped on the subway, and headed for
Yeouido
, the Wall Street of South Korea. (At this point I should mention that if you walk out the other side of Seoul Station, the first thing you see is the Seoul Hilton. Yeah. I was a bit on the wrong side of the tracks, apparently.)

My interview wasn't until early afternoon, but I was in Yeouido by 10am. After making sure I knew how to find where I needed to be for my interview, I decided to explore the island. I walked down to
Building 63
, along the Han River, and past Daewoo Trump World before deciding that I was going to melt from the humidity if I didn't immediately find some air conditioning. I went and sat in a nice airconditioned cafe across from the location of my interview and nursed an ice coffee, a bagel, and my kindle until interview time.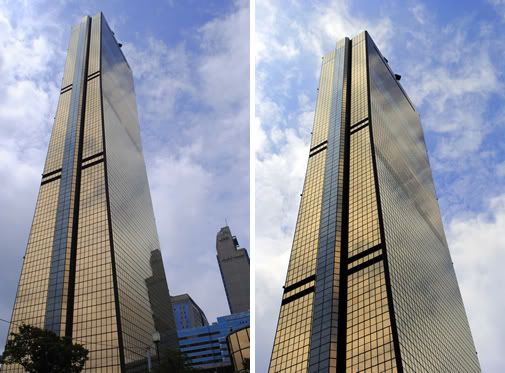 Building 63
Han River Park on Yeouido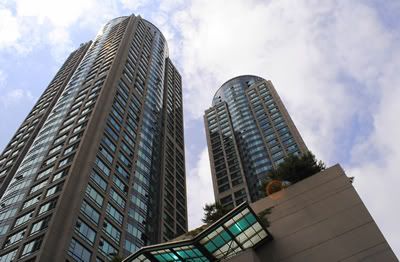 Daewoo Trump World
Yeouido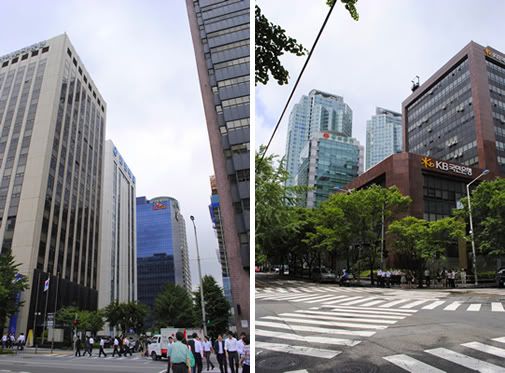 Yeouido
The interview itself seemed to go really well. Of course, it's always hard to judge. I've had great interviews and then never heard from the potential employer ever again, and I've received job offers following what I thought were pretty shitty interviews. You never can tell for sure. The people who interviewed me were really friendly, and we all seemed to get along very well... but I have to wait until "next Friday at the latest" before I learn if I'll be moving to Seoul or not.