I went to Seoul and rented an apartment today; I'll be moving my stuff in next weekend. Yes, I am renting an apartment for my stuff to sit in while I'm away during August. I truly believe it will be worth it just so I can get off the plane in September and head straight to *my* house. I didn't have too many preferences: not too far from my workplace, low key money, and rent below $1000/mo. ['Key money' is the Korean equivalent of a down payment or security deposit - but if you want to live in something larger than a studio, your key money could easily run you $5000-$10000 - or much more if you're looking to rent a family-sized place. You do get it back when you move out, but that's a lot of money to drop at once.]

With the help of a super-awesome realtor (kind of pricey, but worth every penny based on her reliability, helpfulness, and great attitude - if you need a realtor in Seoul, let me know and I'll send you her email). She hooked me up with a semi-furnished studio in
Hongdae
, for $700/mo, $700 key money - four stops by subway (albeit with one transfer) from Yeouido, where I'll be working. It also comes with free internet and free cable TV. Granted, I'll have to buy a tv, but woohoo! I do like free things. Especially internet. And it's just around the corner from a
Paris Baguette
, home to my daily breakfast: the sugar-coated fried dough stuffed with cream cheese. It's also located in a brand new building, and I'll be the first person to rent the place. The whole building still smells new. It's not much to look at (especially empty!), but take a peek: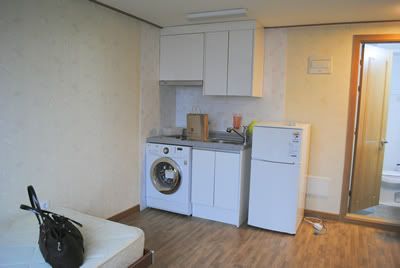 When I left Daegu early this morning, the weather was gorgeous: all sunshine and blue skies for the first time in weeks.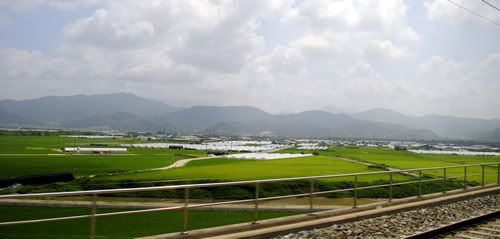 About 20 minutes north of Daegu a few clouds started to appear...
Luckily I wore my rain boots, because unlike in Daegu, the weather in Seoul was miserable. The realtor and I were pretty drenched by the time we were through running about. However, after taking care of the whole apartment rental business, I figured that rain or no I should make *some* use of my time in Seoul. After all, I'd
KTX
ed it up there, which is an $80 round trip. I needed to get my money's worth.

I decided to head for the
Jongmyo Shrine
(with the idea of also visiting the
Changgyeong Palace
located next door). I'd visited both sites before - but that was wayyyyy back in 2004, back in my Canon Powershot 35mm film days. I figured they definitely deserved some DSLR treatment. Unfortunately, today was NOT the day for it. After wandering around Jongmyo in rain ranging from drizzle to downpour, while trying to shoot the DSLR one handed (having an umbrella in the other) for about an hour, I decided it was time to return to Daegu. I didn't get many decent photos, but here are a few.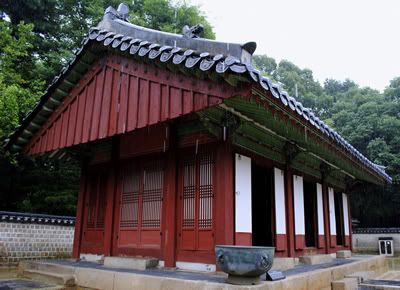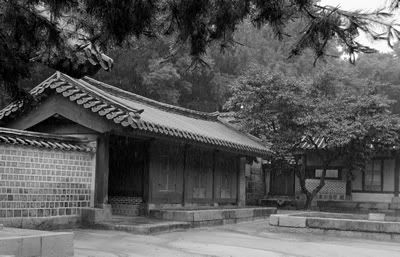 This was my favorite photo of the day :-)