After one spends the day in the Chernobyl Dead Zone, anything that comes after that is bound to be anticlimactic. As such, our last day in Kiev, while a fun day, wasn't nearly as interesting. Still, here goes:
We started off going to see the Kiev Pechersk Lavra - the Kiev Monastery of the Caves. It's one of those sights that all the guidebooks (including the much maligned 2010 Bradt guide to Ukraine) tell you is an absolute must-see when visiting Kiev. In my opinion, it was pretty over-rated. I'm not religious at all, so the religious aspects were lost on my. I do love a good onion dome, but I've seen better onion domes, even in Kiev. And the caves themselves weren't exactly cave-like. They were hot, humid, claustrophobia-inducing tunnels, with smooth plastered walls. Every so many feet was a mummified and shrouded holy person in a glass case. Photography was not allowed. Totally not my scene on so many levels.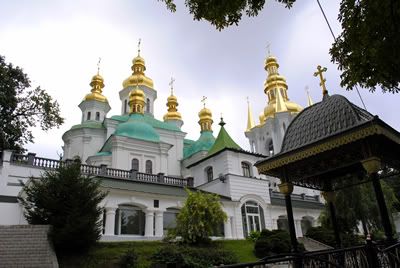 One of the cathedrals in the caves monastery complex


After leaving the monastery and having lunch, we went to the nearby
Monument to the Motherland
, which I'd visited with D
on my first day in Kiev
, as the newly arrived Brits had yet to see it. At the base of the monument is the national world war II museum, which we visited. Quite a good museum, but *much* larger than I'd expected, and I was feeling pretty drained by the end of it. We wandered around that area a bit more, went to a Crimean restaurant just off Maidan for dinner, then returned to our apartment to have a few drinks with Pasha and, sadly, get packing.

Родина Мать - Mother of the Motherland



Our entire group: Me, N, A, B, D, and K



And our group in Pasha's kitchen:
Me, D, B, Pasha, A, and N