I freely admit to being a cat lady. I'm also pretty convinced that there's a cat lady gene. That or my mother and I have both been infected with toxoplasmosis for years. My mother likes to tell people that she has fifty cats. That's a good, round number, which is both impressive and frightening. She doesn't really have fifty cats. I counted when I was home; she only has thirty-two. My two weeks in the US were like two weeks in a fantastic cat
café
. As you might imagine, I took a ridiculous number of cat photos. Here are just a few: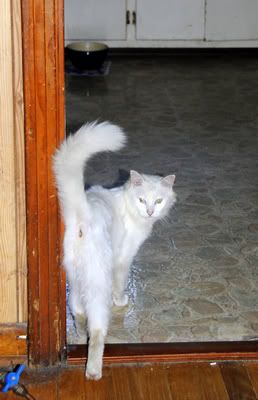 This is Abs. He was found on the side of the road back in 2010. One of his eyes was so severely injured, that we initially thought he would be blind in that eye. However, with treatment the eye itself has healed. His internal eyelid on that eye doesn't completely retract, but it gives him no problems.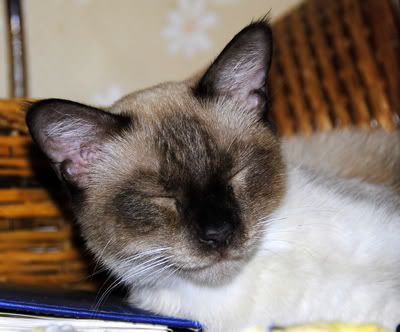 This is Ari, named after NPR's Ari Shapiro. Half the time we actually call him Ari Shapiro. This leads to amusing emails from my mother along the lines of, "I'm getting Ari Shapiro neutered tomorrow morning."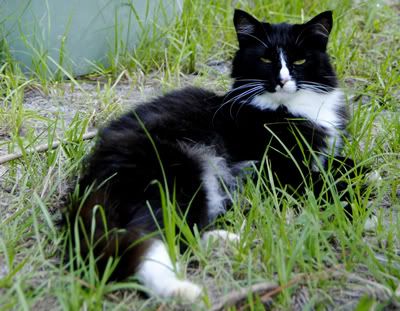 This is Bagira - I brought her to the US from Kyrgyzstan

This is Cylon. It's not the best photo of him, but I've selected it for the blog because it's definitely illustrative.
Cylon used to live out at my mom's land. (My mom's house and her land are a good fifteen minute drive apart - her house is on the outskirts of a small town; her land is out in the country. About half of her cats live on her land.) Cylon was always the first to come running up to greet any person who arrived out at the land - he was almost dog-like with his outgoing manner , playfulness, and exuberant friendliness.
Back in May of this year, my mom found him lying, unable to stand or move his back legs. She rushed him to the vet and discovered that he had been shot with a 22, which had shattered his pelvis and one of his rear femurs.
Cylon's recovery has been amazing. As you can tell from the photo above, the way he sits rather resembles Christina's World. However, he is able to walk, jump on and off furniture, and he even goes in and out the kitty window. Still, he will never be as active as he once was.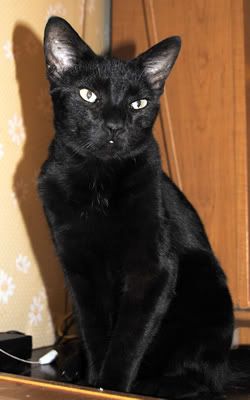 This is Echo. My mom and I found her as a kitten in a convenience store parking lot back in 2002.

This is George. He is both FeLV+ (feline leukemia) and FIV+ (the kitty equivalent to HIV), although from looking at him you'd never be able to tell that anything was wrong - he is fat, happy, and healthy.

This is Pandy - wondering who the Strange Woman with the Camera is, and what she's doing in his yard.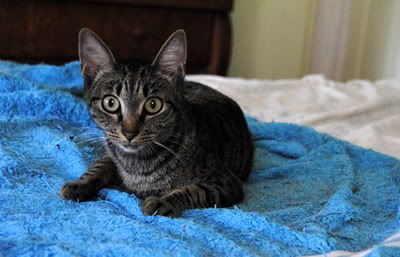 Likewise, this is Silly, debating whether or not he should run away from the Strange Woman with the Camera.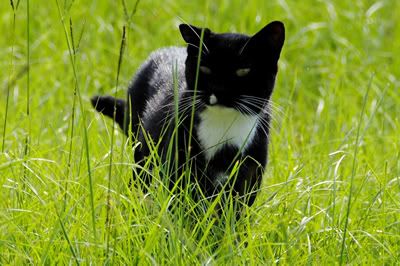 Poor Spot really needs to be adopted by someone who doesn't have any other cats. She's an absolute sweety (although very shy around new people), but the other cats bully her. Anyone in the Southeastern US want a cat?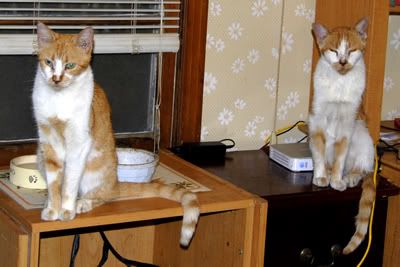 Tuffy and Dusty are my mom's oldest cats. She's had them since 2000.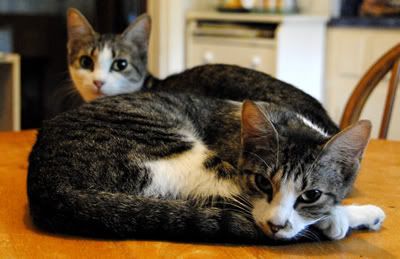 Netta and Yukie (pronounced yoo-kee) are sisters who look nearly identical, but who have nearly opposite personalities. Netta is stand-offish, and pretty much ignores humans (unless they have food), whereas Yukie is quite affectionate and loves to snuggle.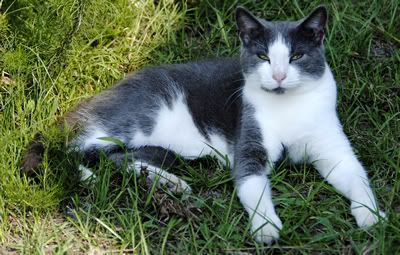 This is Zephyr - quite a friendly boy!

This is Buddy - he has remained totally feral, despite our attempts to tame him. Hooray for zoom lenses, as I can't get closer than twenty feet!