[I had really thought I'd be able to fit everything pertaining to this aspect of my trip to the US into one post... but then I took a look at all the photos I had, and realized that it would take at least three, if not four posts to do it justice.]
For just about as long as I can remember, my mom has wanted to get an old house and have it moved out to her land. A couple of years ago, she had the opportunity to move a house, but had to turn it down, as its size - and distance from her land - were cost-prohibitive.
This past June, she got another chance. The owner of a smaller (although still fairly large - roughly 2400sqft) house, a 1905 bungalow, located only five miles from her land wanted the house removed from his property. (He had just purchased the property, and apparently wants to build some sort of commercial enterprise in that location.) My mom got the house for free - she just had to pay the moving expenses.
With arrangements for this beginning in June, I'd thought that by the time I arrived in the Southeastern USA (during the third week of August) there would be a house sitting out on my mom's land. Instead - given the rather slow and incomprehensible way in which contractors work - the whole house moving madness didn't go down until I was home.

This is what the house looked like originally,
before all the madness got started.
This is a rough blueprint of how the house is set up. It's not drawn to scale, and I did it by memory from over here in South Korea, so I'm not entirely sure how accurate it is:
Initially, there were five fireplaces, as shown on the blueprints above and in the two pictures below (taken by my aunt in June). Sadly, for the house to be moved, the fireplaces and their chimneys had to go :-(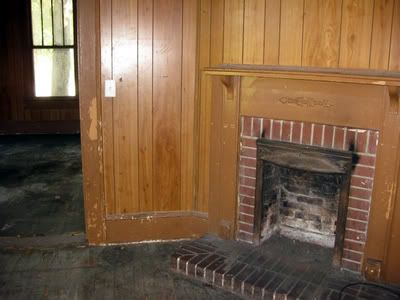 One of the front four fireplaces

Fireplace in the master bedroom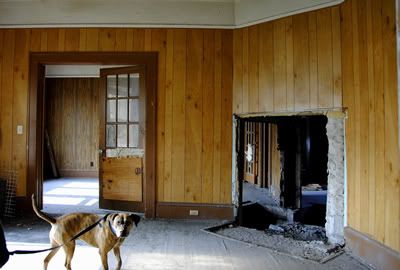 Where once there were four fireplaces...
(Taken from the front door, looking into the living room)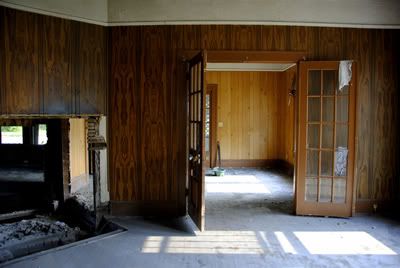 Taken from the dining room, looking towards the living room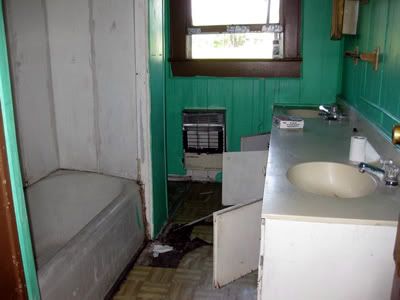 The bathroom is terrifying.

The kitchen, however, is HUGE.

The master bedroom, sans fireplace.
(The mantles, however, have been saved.)
Stay tuned for the next installment of House Moving Madness,
featuring the cast of Deliverance.