My commute to work takes between 25 and 40 minutes, depending on how soon after a subway train has left the station when I arrive, and depending on whether I can catch the express train between Dangsan and Yeouido, or if I have to take the regular train. A subway commute isn't exactly enthralling, although at least mine has one above ground segment that provides me something to take some snapshots of. I don't lug my DSLR to work, so these were all taken with my pocket Nikon. They were shot on the bridge over the Han River between the Hapjeong and Dangsan stations.
8:30am
8:30am
6:00pm
6:00pm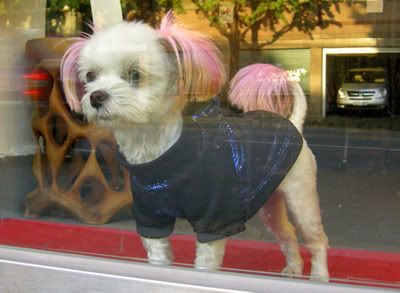 On the walk home between Hongik University Station and my apartment, I pass a clothing store in which this ridiculous looking dog lives. (It's there at all hours of the day, even when the store is closed, so I'd say it lives there.)
Every now and then, the absurd pink eared dog has a friend or two in the store with her. Tonight she had an elderly chihuahua companion.