Today was probably the last day of summer weather here in Seoul. The morning was gorgeous: sunny with blue skies, although unseasonably hot and humid. The weather had been predicted to change this afternoon (it did; it grew all cloudy), and rain is predicted for tomorrow. Starting Monday, it should be a good 15 degrees cooler (Fahrenheit of course) here.
I took advantage of this morning's good lighting, and headed for Deoksugung (Deoksu Palace,

덕수궁)

, one of the five Joseon Dynasty palaces in Seoul. (Gyeongbuk Palace, which I visited on Sunday, is another of the five - I figured I'd start my Seoul photography by hitting up all five.) Deoksu is a lot smaller than Gyeongbuk. While I wandered around Gyeongbuk for hours without seeing everything there was to see, I was able to explore the entire Deoksu complex (well, I didn't go to the art museum) in about 45 minutes. It is, however, a nice park, and it's conveniently located right next to City Hall. Entrance costs roughly $1.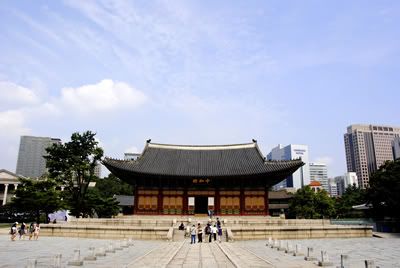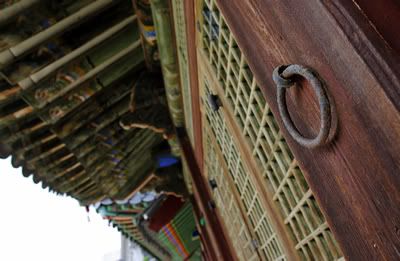 I left the palace complex around noon... just as some rather loud and interesting sounding drumming started up across the plaza from the entrance. I went over to investigate, and discovered that the
2011 Seoul Drum Festival
had just started. I really found myself wishing I'd shelled out the extra couple hundred dollars for a DSLR that also took video, as the photos I took don't really do it justice without the accompanying sounds. Ahh well.