So you remember how Mama Cat was staying at my house both before her spay surgery and afterwards for recovery? Well, last night was supposed to be her last night at my house. She had been sleeping next to my pillow; Mochi and Charlie were sleeping together at the foot of my bed. Every morning, as soon as I'm awake, Mochi leaps onto my chest, like he's just so overjoyed that I'm awake. He did that this morning at 8am, right after I'd turned my alarm off. Mama Cat, being right next to my head and all, thought she was under attack. Her response was to lash out with her razor sharp claws. She missed Mochi and snagged my lip. If it had caught me pretty much anywhere else, it wouldn't have been too bad, but my lip? Her claw sliced right through it like a hot knife through butter, and blood exploded all over my bed. I staggered to the bathroom, and saw that there was a gaping hole from just above my upper lip, all the way through to the bottom of it. Blood was going everywhere. I called my mom and asked her to come pick me up and take me to the ER. Then I passed out. A couple of times. (I'm definitely not someone who could get shot or stabbed and keep on fighting!)
Luckily (?) this happened fairly early, so the ER was not crowded. There were only two people in there ahead of me when I arrived, although by the time I left the lobby was packed. Even so it four hours to get in and out. Sigh.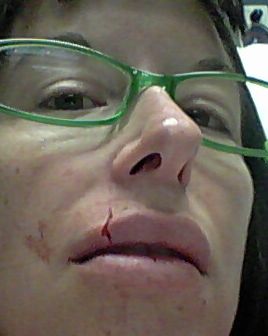 Sitting in the ER waiting for stitches, taken with my cell phone.

Four stitches later...
And, as it was an injury caused by an animal (even though it was my animal, not a bite, and an accident), the hospital had to report it to both Animal Control and the Health Department. I have to keep Mama Cat at my house until after they can "investigate." Mama Cat is a sweetheart, but she's spending the night in her crate until she can go back out to the land.