Mama Cat is getting spayed tomorrow. Mama and her (now weaned) babies currently live in the A-frame building out at our land. While the road is flooded, we only go out there once a day, so, since Mama is getting fixed tomorrow, I brought her back with me to my house. (Besides, she can't have food and water after midnight, which would've been hard to arrange in a small building full of hungry and thirsty kittens.) This means that she got to meet Charlie and Mochi this afternoon.
Charlie didn't like Mochi at first, but they have since become good friends. All of the cats at my mom's house are used to dogs, and are always playful with Mochi when I bring him over for a visit. Poor boy thought he had a new friend coming into his house; but after he got hissed at and smacked, he's been staying out of the way.
Charlie doesn't know what to make of Mama Cat. She's always flirting with the boy kitties who come to my window and door, but a girl cat? She fluffed her self up and began stalking. Mama, for her part, did her best to ignore her. (BTW, before you ask, the art stuff in the pictures below is not mine.)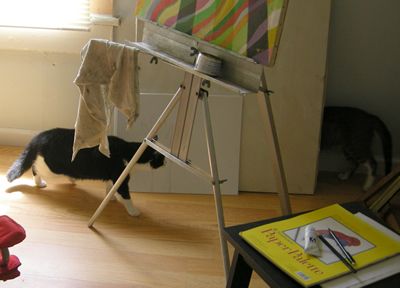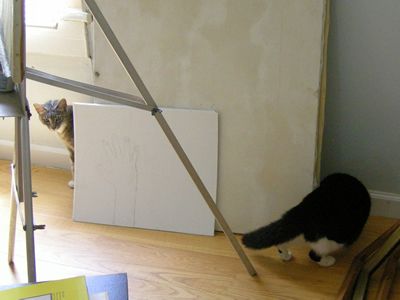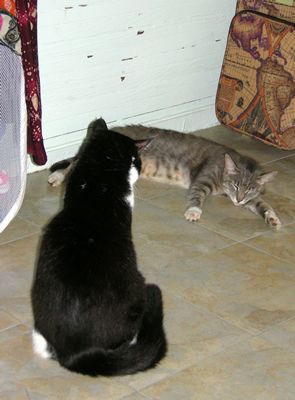 "If I close my eyes, maybe she'll go away."
Mochi, staying out of range of trouble.