Okeedokee. Since I've been encouraged to keep blogging, I'll see what I can do. It's not that I haven't been doing things over the past month or so, it's just that I haven't blogged about them. This post will be low on writing and heavy on the photos. Enjoy!
Early in May I went down to Lake City, FL to hang out with some good friends of mine who were in town to celebrate both a birthday and a baby shower.

Me, with friends M and C
Me with the ladies at the baby shower. The mama to be is directly behind me.
At one point we went to a brand new "Japanese" restaurant in
Lake
City
called Yamato. I put that in quotes because anyone who knows anything about either Korean or Japanese will recognize that as Korean script. The "sake" on the menu was soju and bekseju. There was also galbi on the menu. Hmmmm. The food didn't taste either Korean or Japanese to me (I had the scallops and they were incredibly rich and wonderful) – it tasted more like a Korean/Japanese fusion with an American twist. I hope they stay open as the food was scrumptious… And it's
Lake
City
. I doubt the owners expected anyone from Lake City to walk in and be able to read
hangul
.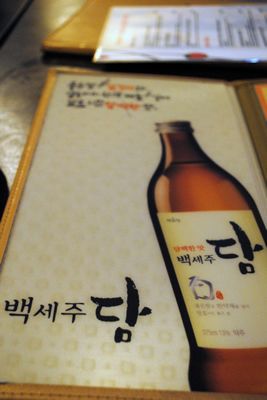 The cover of the menu at Yamato: 100% Korean text
The day I got back to the Small Southern Town from Lake City was a sad day. Blix, our 14 year old German Shepherd had finally reached the point where he was simply unable to stand. He'd been having trouble walking for some time, and we'd had him on various joint medications, but his old age finally defeated them. He spent most of the day on the front sidewalk with his good friend Reddy Cat, and was euthanized that afternoon.
Several days later, Mom and I took a trip to Statesboro, GA to visit the Georgia Southern Botanical Gardens, a small but beautifully landscaped garden near the Georgia Southern campus. Unfortunately, the day was overcast and dreary (although luckily for us it didn't rain), but I was still able to get some good photos.

Pomegranate

Very pollenated bee atop a passionflower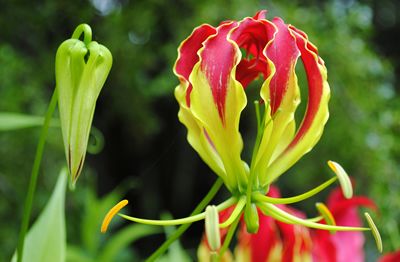 Glory Vine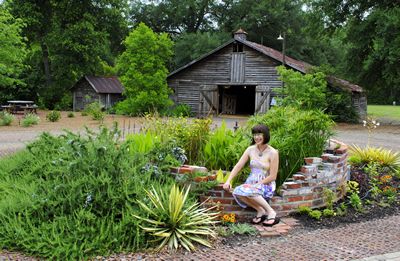 Me
And because you know that animals play a huge part in my life: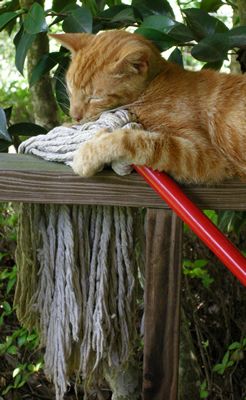 Reddy Cat, snuggling with a mop.
Mom and I decided to take another day trip – this one to Jekyll Island, GA. Unfortunately, I had my camera – my lovely and expensive DSLR – in my purse with my Brita water bottle. Which I had, in my hurry to get out the door, not closed properly. The entire contents of the bottle had emptied themselves onto my camera on the drive to Jekyll Island, and by the time we arrived, it was dead.
When I got home, I submerged it in rice, in hopes that it would dry out and begin working once more. Alas, the rice was not helpful. (Earlier in the month, my cell phone had fallen out of my pocket and had spent the night outside in the pouring rain. Three days in a bowl of rice and it was fine. My camera was not so lucky.)
I'd brought my point-and-shoot with me to Jekyll Island, so I was able to take photographs. The point-and-shoot is a top-of-the-line point-and-shoot, and it is useful in a lot of scenarios, but being forced to make the switch was rough. The remainder of the pictures in this post were taken with the point-and-shoot.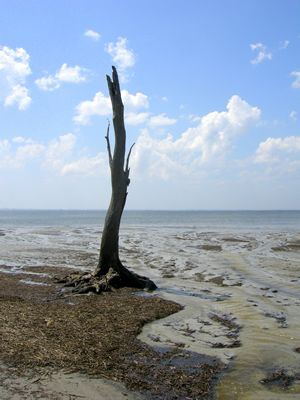 Driftwood Beach
The road to Driftwood Beach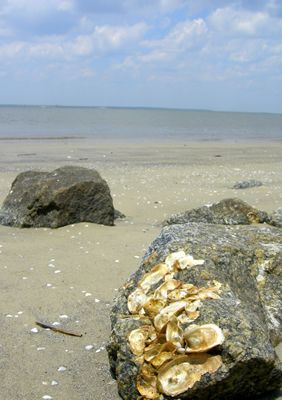 South Beach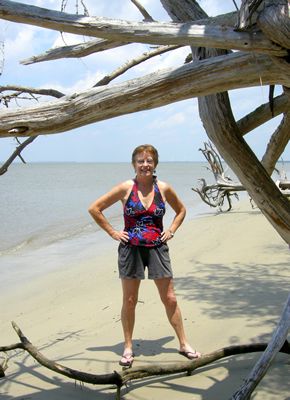 My mom on South Beach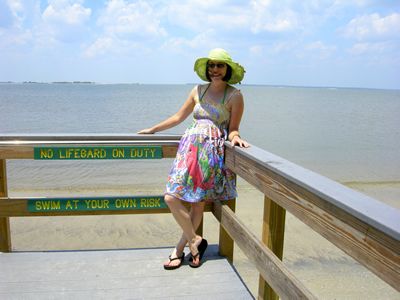 Me at South Beach
Then of course there's The Old House (mom's 1906 bungalow). She's in the process of having some contractors do some work on the kitchen, bathroom, and master bedroom. In theory, she can move in once those three rooms are taken care of.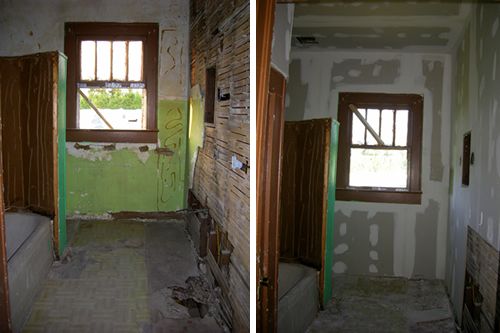 Progress, I swear! Left: paneling removed; Right: sheetrocked
Unfortunately, with the contractors tramping in and out of the house, we had to move Mama Cat and her kittens out of the master bedroom and into the A-frame. It's a much smaller area, but it has three levels, giving the kittens a lot of new things to play on.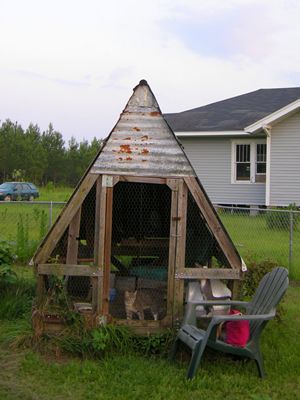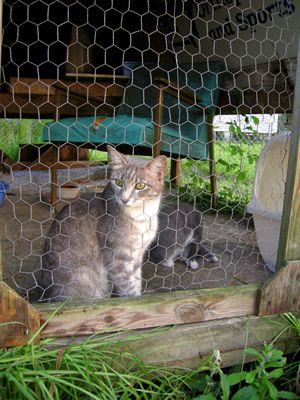 We've had a spot or two of car trouble. Not with *my* car (the one which shall soon be moving to Orlando with me), but with my mother's two vehicles, a 1997 Ford Escort and a 1984 Chevyvan.
The Escort turned out to need a new alternator and a new starter.
The van needed a new water pump and thermostat.
I'm working on convincing my mother that she needs to buy a two or three year old light truck, since A) I will be taking the only reliable vehicle (2003 Toyota Echo) to Orlando in August, and B) a truck could get in and out of flooded areas much better than a car.
Flooded areas? Well, our "road" floods if we get a lot of rain, and this was the result of Tropical Storm Beryl:

Left: The "road" Right: Mom, wading down the road
However, the blackberries have loved all the excess rain, and are plump and juicy: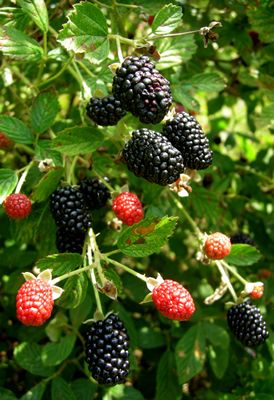 This past weekend I drove to Live Oak, FL to attend the wedding of a good friend from high school. I hadn't seen her in ages, and I wished that we'd had more time to catch up, but weddings tend to keep the bride busy. Still, she looked great, and was positively glowing.

A and her husband C
A and me :-)
Yesterday, mom and I drove to Jacksonville, FL to take my DSLR in for an estimate. I had to leave it, and am still waiting to hear how much it's going to cost to fix it – or if it can even be fixed. After dropping off my camera, we decided to go and check out two parks located right next to each other: Pumpkin Hill Creek State Park and Betz-Tiger Preserve. While sadly devoid of tigers, the area was a lovely marsh park. As soon as my mom buys herself a truck (hint, hint), we can come down here and go kayaking.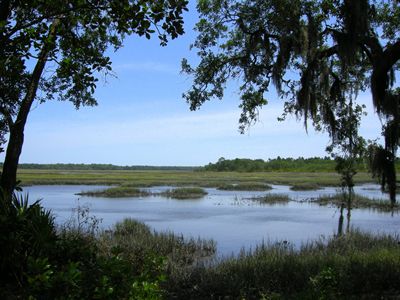 Hunters hunt in the pineforests out by our land. We often come across the remains of their handiwork – but usually what we're left is nothing more than a skeleton and some entrails. Most people around here do seem to eat what they kill. But not all. Take a look at what was waiting for us the other day:
Some asshole shot it, took the head ("Lookit what I done kilt - I'm a man!"), and left the body to rot. It was already noticeably rotting by the time we got out there, or we would've been tempted to try and salvage some meat. As it was, what a complete waste, and so disrespectful to the hog. If you're going to kill it, eat it. Also, please don't leave carcasses in the area where we normally let our dog run free. We can't now, because he would love nothing more than to roll in some rotting pig juice.
And lastly, my little garden is coming along quite nicely. I'm planning to add some Mexican Petunias either this evening or tomorrow. They'll go in that little bare patch on the left. And of course, I still need to dig out and mulch the rest of the bed.