[UPDATE] The ChipIn has been having problems loading. If it doesn't load, here's a PayPal option instead:
Things are usually pretty animal-centric around here, and the addition of a dog to my life has made it even more so. I took Mochi to the vet yesterday - not the vet where he was neutered and received his general health-check (as it's a ways from where I live) but at "my" vet right around the corner from my apartment. I got him his complete set of vaccinations, so he'll be ready to go come March. As I posted yesterday, I've created a ChipIn event to raise money to pay animal transport costs. Additionally, the lovely animal rescue folks who hooked me up with Mochi in the first place have created a facebook event

to help raise money for Mochi's transport and his crate. If any of you would be interested in contributing to the pet travel cause, you can use either of the two options below, and the beasties and I would be incredibly grateful :-)
Meanwhile, Mochi is terrified of the great outdoors. I've been taking him outside every day, but he just plants his feet and shakes. It's not even particularly cold out (although a return to winter will roll in tomorrow), so it seems he's shaking from fear. We spend a little bit of time outside every day, but as I haven't had him very long, that hasn't amounted to much overall, and thus far he is totally not into it.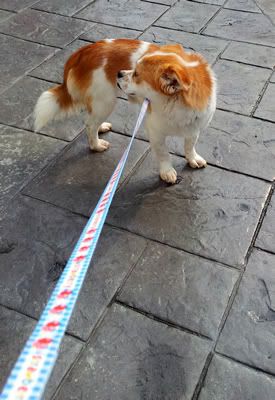 Looking wistfully at the door.
Luckily he's pee-pad trained. I wish I knew how he ended up at the pound - it almost seems like he must have been an indoor dog at some point to be so completely pee-pad trained. And given his fear of the outside, this is really a relief. Of course, my tiny apartment is now half taken up by animal toilets. Joy.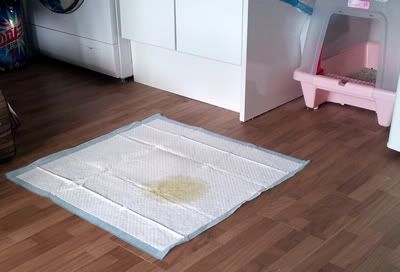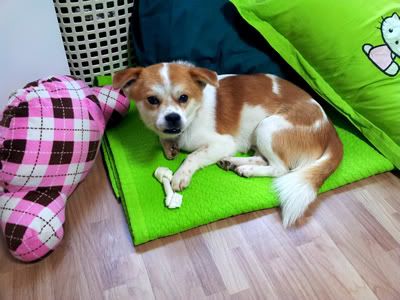 They don't exactly cuddle, but they hang out near each other, and sometimes they even play. Whenever I come home, both are waiting for me at the door. Also, Charlie thinks that a wagging tail is an awesome thing to swat :-)