Sunday morning, we got up incredibly early... only to discover that it was raining. The trouble with a super-short vacation is that you can't put things off until the next day on account of rain. As such, we set off for Beppu Station, where we caught the first bus to the
Takasakiyama Monkey Park
. [You can take bus AS60 or AS61 from in front of Beppu Station. In the mornings it leaves twice every hour, at 20 after and 54 after; in the afternoons it leaves at 20 after. The first bus of the day leaces at 7:54am.]

We arrived at 'monkey mountain' just as it opened (8:30am), and as such were the first visitors. And yes, it was still raining. Nothing like trying to juggle two cameras, various lenses, and an umbrella. Sigh.

The first thing you see when arriving at monkey mountain is a sign warning you not to touch, tease, chase, or feed the monkeys. It also tells you not to look them in the eye.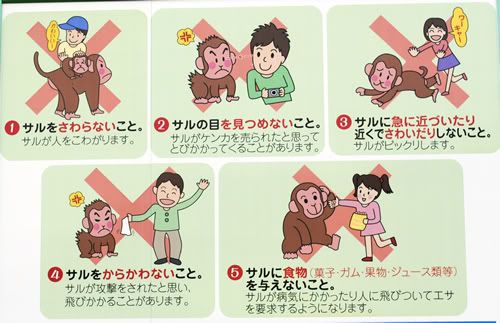 Monkey mountain is also home to an active Buddhist temple. While you can't tour the temple itself, you can see the exterior of several temple buildings (covered with climbing monkeys) as well as the occasional monk. Occasionally bells resound throughout the complex, and chanting is heard as well. (While the monks and the monkeys are colocated, the monkeys are cared for by a professional staff, who feed them and tend to any medical needs.)
I was worried that, due to the weather, the monkeys would be hiding in their houses and shelters... I needn't have been concerned. Not only were monkeys everywhere, but wet and bedraggled monkeys are even cuter than dry monkeys. There was so much unbearable monkey cuteness, that I felt like I could stay there forever and never grow tired of it. I took over 500 photos; I'll leave you to enjoy just a handful.