This holiday weekend I did a LOT of driving. I drove from Orlando, FL to Dekle Beach, FL. From there I drove up to Waycross, GA, then back down to Orlando. I'm including a map so you can see what I'm talking about: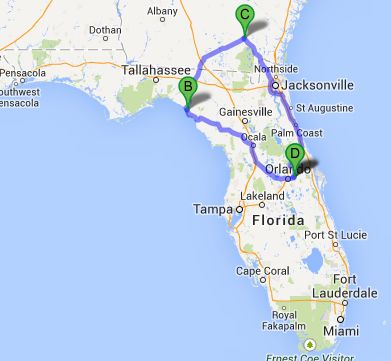 As I mentioned in my last post, my mom's boyfriend, F, has purchased a vacation home in Dekle Beach, FL. Now, despite being named Dekle Beach and being located along Florida's Gulf Coast, there is no beach at Dekle Beach. There's a lot of scenic marsh, but no beach. There's also not much of anything there (they don't even so much as have a convenience store). It's a pretty tiny community, and its one claim to fame is fairly horrific: ten people were killed there (including a family from my hometown) back in 1993 during a freak storm that pretty much appeared out of nowhere. (See the wikipedia article on the storm, as well as an article in which survivors recall the events of that evening. It's pretty harrowing stuff.) F's house is one of the ones that was around before 1993 and survived the storm, so here's hoping it survives whatever else Mother Nature throws at it.
The plan was that I would drive up from Orlando, mom would drive down from Waycross, and F would drive down from his home in north Florida. I thought the goal was to get there around noon. I got there at 12:45 and no one was around. I should also mention that while mom and F have keys, I do not. Also, the AC in my car works well while the car is moving, but not so much while it's sitting still. And it was Florida in late August, meaning that it was HOT. Mochi and I went for a long walk around Dekle Beach (although eventually Mochi just sat down and refused to go any farther. He does have awfully short legs, and it was quite hot out). We then sat in the screened in area underneath F's house, waiting for someone to come and let us into the air conditioning.
Mochi's a hot dog :-)
Not really what you think of when someone says "it's a beach community in Florida"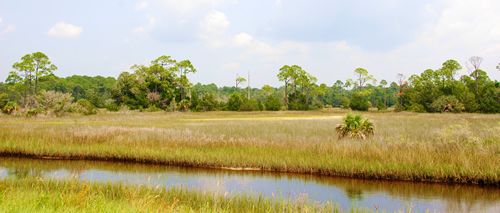 There were houses here before the 1993 storm.
Once mom and F arrived, we set off for nearby Keaton Beach. Unlike Dekle Beach, Keaton Beach actually has a small stretch of – gasp! – beach. Unfortunately, the one restaurant located in Keaton Beach has gone out of business (if you're interested in a cool business location, it's up for sale…) meaning that our lunch ended up being whatever had been baking in the tray at the local gas station for god knows how many days. Also, the water was incredibly shallow and rather overgrown with seaweed. Not the best beach, but good for a short dip if you don't mind sitting in the seaweed. There were tons of hermit crabs. I also saw a garfish with a smaller fish in its mouth, as well as a stingray and quite a few sea-birds.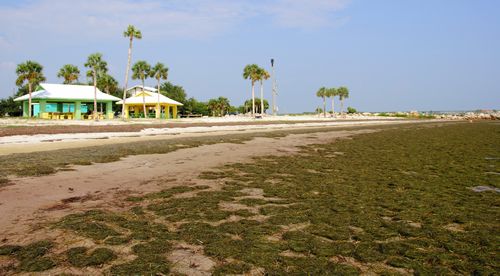 Keaton Beach at low tide: sea grass everywhere!
Mom and me
After our "swim" we returned to Dekle Beach, where we did some more walking (much to poor Mochi's chagrin), and we may have explored an area clearly labeled with 'no trespassing' signs, haha.
It was also clearly marked with these signs about not stealing palm trees. Um, ok.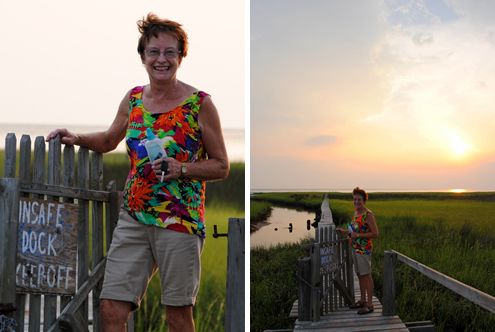 Mom :-)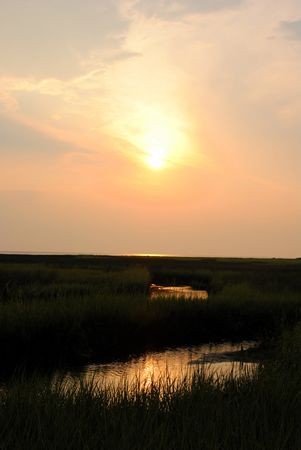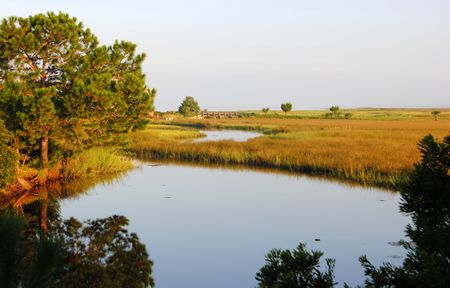 The view from F's porch in the morning light
The next morning, I left to drive to Waycross. Somebody has to feed mom's animals while she's enjoying the beach house! My stint in Waycross was wholly uneventful, and I returned to Orlando on Monday. I did stop on US 1 to rescue a turtle who was foolishly walking south down the center of the southbound lanes. It terrified Mochi.
I'm still posting stuff regularly over on my Kyrgyzstan blog, so go check it out!