I've been back in the US a little more than a week. Honestly, I'm not feeling any reverse culture shock at all. What I have been feeling, however, is jetlag. I think I'm mostly over it at this point, although obviously not completely as I woke up before 9am today without an alarm. Trust me, that only ever happens when I'm jetlagged. While it's not as bad as jetlag from Korea to the US, it's still rough. It took several days before I could make it through the day without passing out mid-afternoon or waking up around 3:30am. Unfortunately, I've a lot that I need to be doing, which makes the fact that my brain has been so time-scrambled for the past week or so kind of a pain.
For those of you interested in my Kyrgyzstan adventures, I have indeed been posting them over on my Kyrgyzstan blog, so go check it out!
My post-Kyrgyzstan adventures haven't been quite as interesting. I've written a syllabus and put together a course calendar for the undergrad course I'll be teaching starting in a little more than a week. I've also started putting together the course website. Yawn. I also have to take several hours of boring online modules, as well as a full day of face-to-face training to "qualify" me to be a TA. Like I'd never taught before or something. Hah. I also have a very part time job (happens only a few days a year, but hey it pays well) which will be taking up pretty much all of next week… meaning I need to get my course stuff and online modules and whatever taken care of before Monday rolls around. In other words, this weekend is going to be pretty much the opposite of exciting.
I drove up to Georgia on Sunday and came back yesterday. Mom and I then drove back down to Florida – albeit to a different part of the state than where I live – in order to help her boyfriend, F, move his sailboat from his dock in Steinhatchee to his new house in Dekle Beach. I'd like to say that we were successful, but alas, the boat never left the dock. We essentially did a lot of driving, a lot of sweating, and accomplished a whole lotta nothing. But hey, the scenery was great. We also celebrated my mom's birthday. HAPPY BIRTHDAY, MOM! Back in Georgia, I helped my mom with the mowing (and the towing of the mower from one property to the next), which also involved a lot of sweating. The southeastern US will do that to you this time of year.
Mom and F and the sailboat...
Mom on the boat. Her hand is bleeding, having been thwacked by the centerboard crank.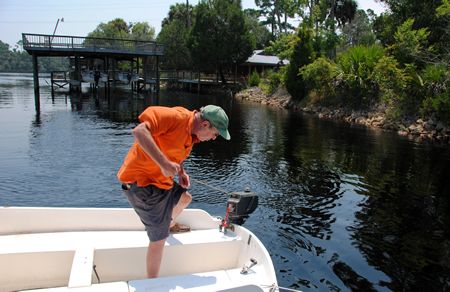 And this would be the reason we didn't move the boat - we needed to motor it down to the ramp, but alas...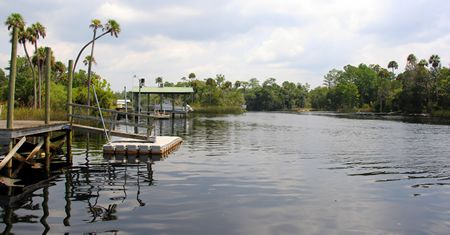 But hey, the view was nice.
F's new house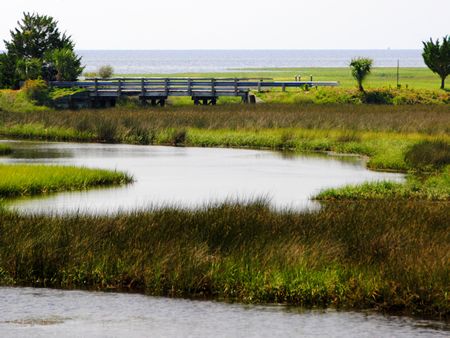 The view from F's new house
We went for a walk in the marshy area along Yates Creek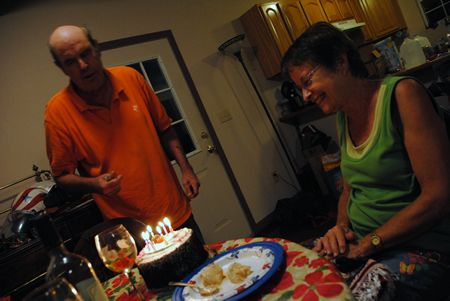 Happy Birthday!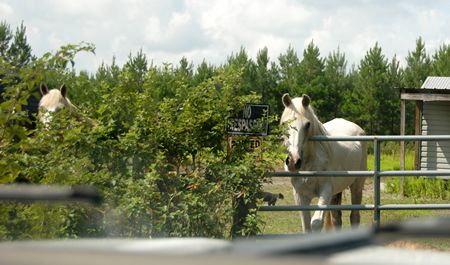 Back in GA, Honey and Merlin anxiously await dinner.
Of course, by the time I made it back to Orlando on Thursday and was still sweating, I realized that I needed to have my AC looked at. I'd gotten a new compressor (up in GA) back in April, so there was no reason for me to be sweating in the car. Well, either the guy who installed the compressor forgot to add freon, or the system has a leak. I guess I'll find out which if my car either remains cool or goes back to being a sweatbox.
In addition to the kinda pricey freon + oil change, I gave in and went to LensCrafters to get an eye exam and some new glasses. I don't even want to think about the amount of money I had to shell out. And I won't even get my glasses til next week, as they have to special order my lenses (as I bloody well can't see) – although at least I made it through one more checkup without needing bifocals. Hah. The doctor said I'll probably need to get them the next time I get a prescription. Since I'm going from having four pairs of glasses (black, brown, pink, and green) plus prescription sunglasses to just having one pair plus sunglasses, I went with tortoiseshell lenses as those are both black and brown. They're super cute, but I don't get to post pictures until next week or whenever they arrive.
So yeah. This post has been disjointed and probably not the most interesting. Go visit my Kyrgyzstan blog – it's far more coherent and definitely far more interesting.