When people who aren't Floridians think about Florida, they tend to think of Disney and beaches as the state's main attractions. While the beaches and the theme parks might very well be the things that attract most tourists to the state, Florida's freshwater springs are to me one of the state's most attractive features. Since I'm here – and since I have a lot more free time this semester than last (last semester I worked two jobs and took four classes; this semester I'm back down to a more reasonable one job and three classes) – I've decided to see how many of the state's springs I can visit and photograph.
I started off this week by going to one of the two spring-containing Florida state parks in the Orlando vicinity: Blue Spring State Park in Orange City.
I'm going to have to admit that this was not my favorite spring. I'm not sure which spring is my favorite, although Ichetucknee definitely has the home court advantage as I grew up about a fifteen minute drive from the springs. At Ichetucknee and many other springs, it is possible to walk directly up to the shore of the spring-head. This is not possible at Blue Spring. One can swim from slightly downstream of the spring into the spring-head, or one can view the spring from a boardwalk in the woods above the spring. Neither of these options provided the best spring-viewing opportunities for me and my non-waterproof camera. Still, the spring was pretty, and I got some decent photographs. I had heard that Blue Spring was a prime manatee watching location. I was a little disappointed to discover that it's only a prime manatee watching location in the winter (when the spring's waters are warmer than those of the nearby St. Johns River). There was not a single manatee in sight. My time at the spring was cut short by the typical Florida afternoon sunshower, which I eventually grew tired of trying to wait out. I did, however, get to witness the amusing – if confusing – running of sopping wet, bathing suit attired folks, frantically scrambling for shelter when it started to rain. Dude. You're already wet. You're in a bathing suit. There's no lightning. Seriously? I just didn't get it. I wrapped my DSLR in a plastic bag and slowly sauntered on.
The spring head as viewed from the boardwalk above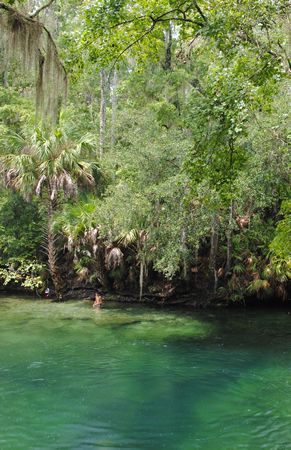 Another shot of the spring head from the boardwalk above
You can rent kayaks to explore the spring run
The spring run flows into the St. Johns River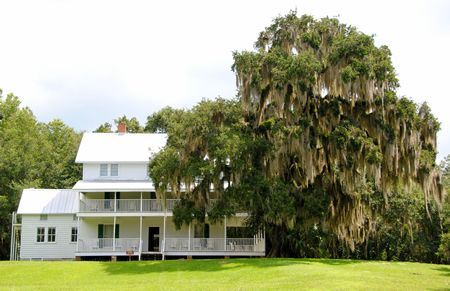 Thursby House, 1872
The folks who lived here apparently grew citrus until all their trees were killed in a freeze. They had a steamboat dock which was pretty active until a new railway was built into the area and replaced steamboat travel as the main method of transportation.
Only the home's kitchen was done up 'period' style. The remainder of the house was either closed to visitors or contained some rather repetitive and not-too-informative displays.