The road between Orlando and Dekle Beach passes by quite a few springs, as I noticed on my last trip there. I took a short trip to Dekle this weekend (which will be the subject of another post) and decided to stop at one spring on the way there and another on my way back.
On the way there I stopped at Fanning Springs, which is located in the tiny community of (wait for it...) Fanning Springs on the western edge of Levy County. To be honest, I found the springs rather disappointing. While the water was crystal clear and bright blue - and while I was the ONLY person there other than park staff - I was still a bit let down. For starters, even though the water was perfectly clear, there was no vegetation whatsoever inside the spring head area. None, other than at the very edges. While this might make the springs more comfortable for swimmers (I admit, freshwater "seaweed" is always disconcerting when it rubs along my legs while I'm swimming), it gave the springs a bit of a dead appearance, in my opinion. The other disappointing factor was the concrete dock which separated the springs proper from the run leading out to the river. Again, convenient for swimmers (and boaters), but god what an eyesore.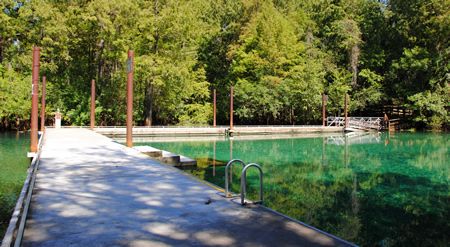 However, despite my feeling of disappointment, it was an absolutely gorgeous day to visit a spring. Not only was the sky clear and blue, not only was I the only visitor at the park, but it was the first day that it actually felt like fall here in Florida. It's so rare here to have a gorgeous, sunny day that isn't blisteringly hot and tormentingly humid, so having a day of perfect weather made sitting on the spring-shore quite pleasant. And while there might not have been a lot of aquatic plant life, I saw quite a few fish and turtles. I'm guessing they were enjoying the fact that there were no humans in the water to disturb them! I saw an insane amount of mullet, plus one super adorable baby turtle who was only about two inches in diameter.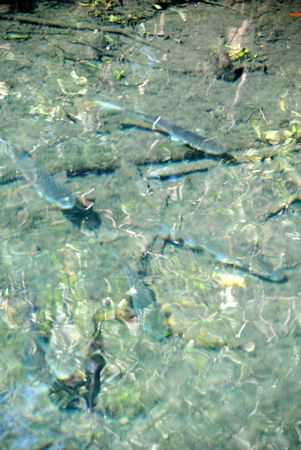 Mullet!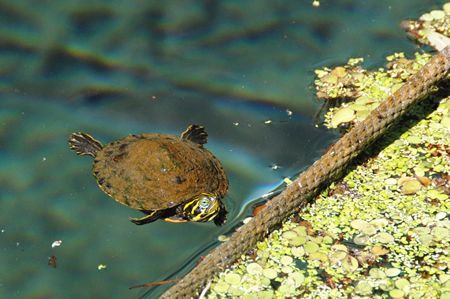 He wasn't much bigger than this in real life.
On my way home from Dekle, I stopped at Manatee Springs, located just outside of Chiefland, FL in Levy County. Sadly, despite the arrival of fall temperatures, it's still too warm for manatees to be seeking warmth inside the springs, so I didn't see any. Also, when I arrived at the park it was about to start pouring. I also knew that I had two more hours of driving to go. As such, I didn't spend much time at the park. That being said, I found Manatee Springs much more to my liking than Fanning. The springs seemed more natural (as in no giant concrete dock marring your view), and they seemed a lot more alive vegetation-wise. That being said, there were quite a few swimmers and scuba divers, meaning that the fish and turtles were nowhere to be seen.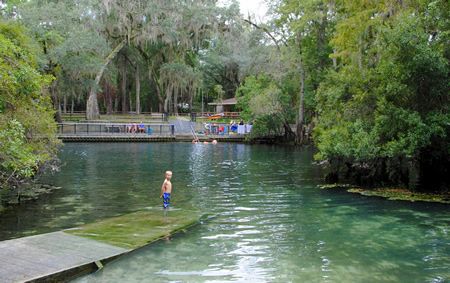 You can walk all the way around the spring head. One side (the far side) is bordered by a man-made wall. From the other side, one can walk right into the water from a natural shoreline (although it does have that ramp that the boy is standing on).