As I've mentioned before, I work in Yeouido - an area often referred to as "the Wall Street of Korea." (They even had their own little 'Occupy Yeouido shindig a few weeks back; I'd actually planned to go to take photos, but it ended up being a miserably rainy day and I stayed inside.) In addition to being the location of any business that 'matters' in Korea, Yeouido is also the location of an absurd amount of rather bizarre corporate art. I've been meaning to make a weekend expedition down to Yeouido to photograph some of these things, but the past few Seoul weekends haven't been the best weather-wise. Yesterday was pretty crap weather as well, but today turned out to be gorgeous. As much as I rather loathe the idea of spending my free time in the area where I'm sequestered Monday-Friday, I made my way down to Yeouido for the purpose of photographing corporate art. I only photographed a few pieces, as I got sidetracked by the Yeouido Park, but we'll get there in a moment.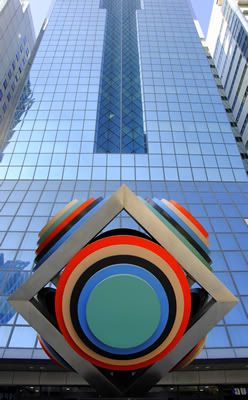 I had walked across part of Yeouido Park several times, as there are some restaurants on the other side of the park that my coworkers enjoy - but the part that I'd seen was the huge, boring, concrete expanse, where people can rent bikes to ride around in circles on the concrete. Yawn. I hadn't been too impressed with the park, mainly because I had thought that was all there was to it. Today I discovered that it has a huge grassy expanse that completely bisects the island.

This says Yeouido Park, btw.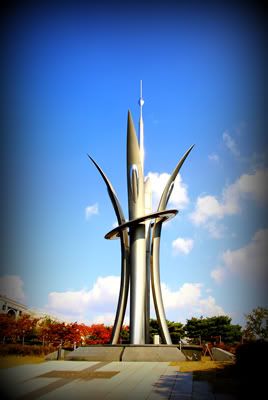 King Sejong
Stray cats are hard to spot in Korea. They tend to be feral, and generally come out at night to scavenge. It's pretty rare to run across stray cats in the daytime, and when you do, they're generally terrified of humans. Prior to today I hadn't seen a single stray cat in Yeouido - and believe me, I'm like a magnet for the critters. Today I saw 5. All completely feral and unwilling to have anything to do with me or anyone else. I saw two while I was hunting up corporate art; they skeedaddled as soon as they spotted me. The other three had found a rocky area by a pond in the center of the park - an area that's fenced off from humans - and they must live there. They were lolling about in the sunshine, playing and looking adorable.
I left the park and wandered along the Han River for a bit. The park along the northern edge of the island was pretty crowded, but then I made my way to the north-western edge, where everything was overgrown, and there were far fewer people.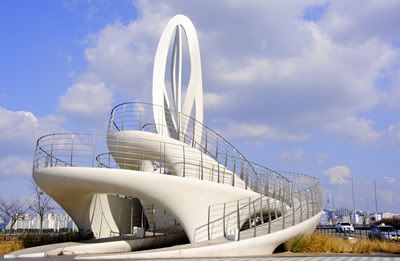 This bizarre overlook structure is located where the bridge from Mapo connects with Yeouido.

View from the overlook: Han River and north Seoul.

The north-western edge of Yeouido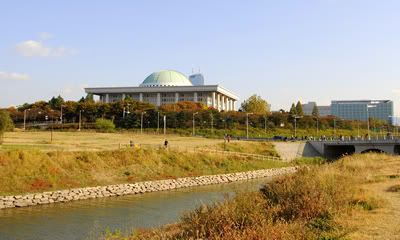 Looking back at Yeouido - and the National Assembly - from 'mainland' Seoul
To see the complete set of photographs from today,
CLICK HERE.