I took Mochi for a walk down along the Little Econ Greenway yesterday. The high was 52F. I wore a couple of sweaters, and this is how Mochi was decked out: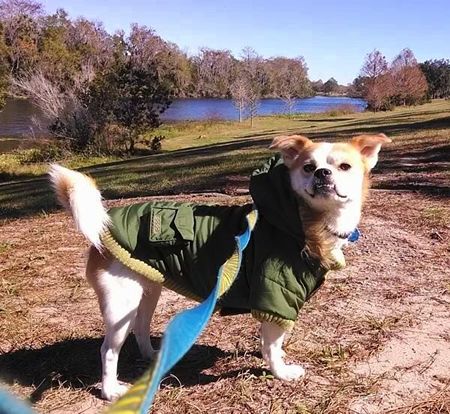 Honestly, Mochi probably would have been just fine without the coat (having a built-in one and all), but here in Florida, I rarely get the chance to bust out my own winter wear, let alone the dog's. That's not to say that I'm feeling overly nostalgic for cold weather. I mean, I was excited when the polar vortex made it cold enough to actually wear my lovely little dark green riding hood coat a few times... but I am already ready for this Florida "winter" to be over and done with.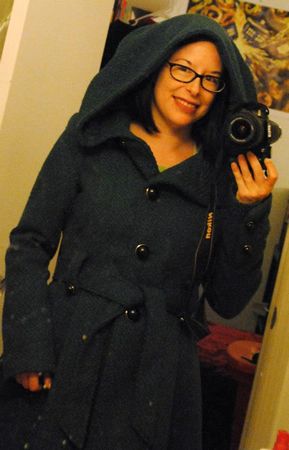 It really is a rich dark green and I am really not a funky shade of orange; the lighting in my bathroom is terrible. Also, I need to clean my mirror.
I'll be graduating with my MA in a few months, and as such have started looking for jobs. Given that I am looking for teaching positions, this isn't really the best time of year for job postings as most fall-starts aren't going to be listed for a few more months yet. Or at least that's what I tell myself. Last fall I submitted my application for a really good 1-2 year position overseas. There are a large number of positions available, so even though it's competitive, chances are good. Still, as I selected the former Soviet Union as the region to which I would like to be sent, I just keep thinking how cold it will be. So I've started applying for jobs in the southeastern US. (I figure I'll go with whichever good job offer contacts me first and let fate deal with the should-I-stay-or-should-I-go problem). There aren't many full-time positions in the ESL field if you're looking to stay out of the public school system, and I really am hoping that there will be more openings posted in a couple of months. Still, in the past couple of weeks I've applied for four jobs (three in Florida, one in Georgia), all of which would be good jobs (although two would be most excellent). I've found myself browsing real estate in the areas where these jobs are located. Real estate! Looking for jobs stateside? Browsing real estate ads? Longing for warmth? I seem to have gotten old overnight. Not that a job in the US would stop me from vacationing in places like, say, North Korea...