After the catastrophe with little Loki breaking his leg last Friday, I didn't think he would be going to his new home that weekend. I knew he would need a lot of follow-up care, but as I didn't know the people who had been planning to adopt him, I didn't know if they would be willing to provide all the necessary follow-up care. In fact, after my experiences in Georgia during December, I was fairly convinced that they wouldn't even want him.
My dad drove over to Orlando from Tampa last Saturday to collect Molly. Initially, she was terrified of him. As in she totally freaked out and pissed herself, then ran and hid, shaking, under the bed. She'd never shown any signs of being in the least frightened of me, my mother, or of Lois (the president of BARC who had administered their first vaccines), so this was quite a surprise. I suspect that she was mistreated by a man sometime before we found them. Luckily, she got over her initial fright very quickly.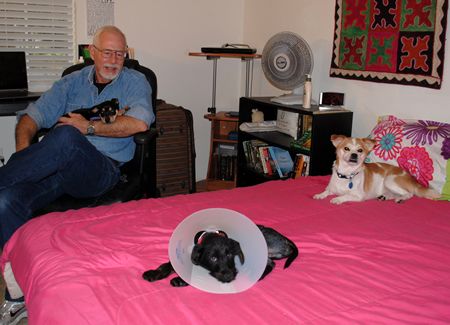 That evening, I heard from the woman who had agreed to adopt Loki - she definitely still wanted him, despite his injury and the follow up care that he would need. Additionally, it turned out that her other dog only had three legs, so even if he never fully regained all use of his leg, he would fit right in. This was such a relief, and such an unexpected surprise. It's always reassuring to discover that there are folks out there who are willing to care as much for animals as I am. On Sunday, I drove Loki over to Clearwater, where I met his new family - human, canine, and feline. I miss the little guy, but he will have a blast over there, and I know they will take excellent care of him.
Since I was in the area, I stopped by my dad's to see how Molly was getting along. She was definitely racing around the house like she owned the place, snuggling with her new humans, and trying really hard to get the cats to play with her (they weren't so into it).

Molly and my brother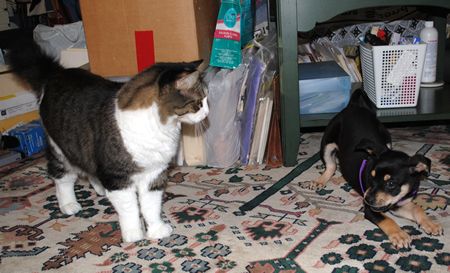 Here Molly's playing with Harley, a cat my dad adopted from me when I lived in GA in 2009.