I'm spending the week in Central Florida - two nights in Orlando (in a hotel) and two nights in Tampa (at my dad's). Viktor (the girnormous pit bull) is in the dog pen at my mom's house. My mom will be popping over to my house periodically to refill Charlie's food and water... and Mochi has come with me.
Before I left, I searched online for pet-friendly hotels. I was pleased to discover that Hotels.com offered a 'pet friendly hotel' search function and booking service, and was able (or so I thought) to book what I was assured was a pet friendly room at a hotel in the area of Orlando where I needed to be. Unfortunately, I got here and discovered that while they had a reservation for me, it was NOT for a pet friendly room. The desk clerk said that this has happened quite a few times with Hotels.com specifically, and recommended booking directly through the hotel, not via Hotels.com to ensure that I had indeed booked a pet friendly room. Luckily, the hotel did have one pet friendly room available (although it was a size larger, and I had to pay the difference). I also had to pay an extra $25/day pet fee that was not mentioned on Hotels.com.
There's apparently some sort of convention in the area, and apparently all the hotels in north Orlando are slammed right now, so I was lucky to get a pet friendly room in the area. I have learned my lesson. While it's great that Hotels.com enables vacationers to see which hotels offer pet friendly rooms, I'd advise against booking via their service. You might find a cheaper rate on their website, but you'll be likely to arrive at your vacation destination to discover that there's no place for your pet.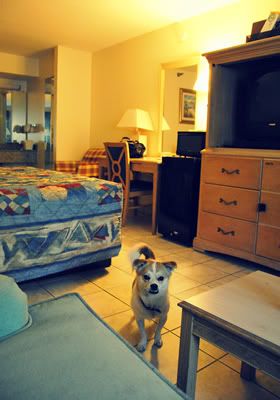 Days Inn offers pet friendly rooms with tile floors and clean but pet-worn furniture.