There's something absolutely wonderful about lying in bed, sandwiched between a cat on one side and a dog on the other, listening to the rain pound against the window, and knowing that you don't have to get up and go to work... that is, it was wonderful until I became fully conscious enough to realize that the weather was utter shite on the day I needed to make two different trips to Itaewon with my critters to finalize their travel paperwork. Yuck.
By around 11:30, the rain had stopped (although it never cleared; the entire day was cold, dreary, and blanketed in thick fog), so I shoved Charlie into her bag and hopped the subway for Itaewon to go to the Chungwha Animal Hospital. Even though there are plenty of vets in the Hongdae area where I live, including one right around the corner from my apartment, Chungwha had been highly recommended to me as a place where the vets and staff spoke English, and where they were experienced with the paperwork needed for overseas travel with pets. I'd been there once before, right after I got Mochi (and it's where I bought his crate), and I was definitely impressed. I'd also read the sign about how they were closed for lunch from 12-1. Which I forgot. Yep, Charlie and I walked in right as they all went on their lunch break. I figure it's good practice for Saturday, when she's going to have to be in her bag for a good 24 hours. Or at least that's what I told her (and myself) at the time. Once their lunch break ended, I was able to get Charlie's health check, health certificate, and rabies certificate quickly and painlessly before heading back home.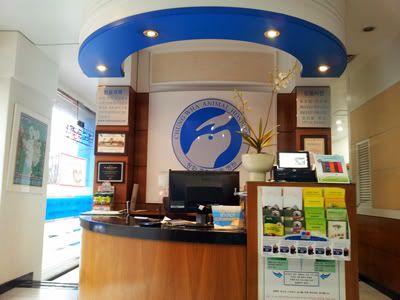 Chungwha Animal Hospital lobby
Charlie, waiting to see the vet.


Then came the more challenging part. In theory you're not supposed to take animals on the subway, but I've seen plenty of people with tiny dogs and the occasional cat-in-a-bag on there. As long as you can pop it into a bag and pretend you don't have an animal, there doesn't seem to be any problem. Mochi, while not a big dog by any stretch of the imagination, is too large to pop into a bag. I'd also discovered on my previous trip to Chunghwa with Mochi that a lot of taxi drivers will speed off the instant they noticed I had a dog with me. Obviously I was going to have to take a taxi to Itaewon... so...
I wrapped Mochi in a hooded sweater, with the hood over his head, and held him on my hip with his little paws around my neck. I should have gotten someone to take a picture, because it totally looked like I was carrying a toddler, bundled up against the weather (the people at the vet clinic agreed). I got a taxi both there and back with no problems, although both drivers seemed quite surprised about halfway to the destination when they discovered that my child had four legs and was covered with fur.
Mochi - who had been so shy and terrified on his first trip to the vet was wagging his tail and playing with everyone. It's so wonderful to see how much his personality has developed, now that he's become confident. And speaking of his development - it's a good thing that he has learned to love going for walks. On the taxi ride back, I made it just past Sangsu (one subway stop from Hongdae), when I knew I needed to get out ASAP or I was going to be violently ill. Stupid car sickness. Could have been avoided if I had sat in the front, but that would have given the whole dog-in-a-sweater trick away right at the get go. Anyway, Mochi and I had a nice long walk through Hongdae proper to get home. Tuesday afternoons aren't the busiest time for Hongdae by far, but there were still plenty of people for Mochi to show off for. He totally struts.

Mochi at the vet, where he got his health check, health certificate, and rabies certificate.