I'm so thrilled that Mochi likes to go for walks now. It's so much fun walking around with him. He's fascinated by the great outdoors, and just wants to sniff and investigate everything. He's still timid - and cars suddenly speeding by or people carrying large items scare him - but in general he's gotten quite comfortable being outside on a leash. Almost everyone who sees him calls him cute, or talks to him, or wants to pet him, and he marches along with his head held high and his tail curling up over his back. It's such a change from the terrified little guy I got back in January. He still doesn't do stairs though. Granted, for a dog whose legs are super short and whose back is super long, I can see how stairs would be a bit daunting, but it would be nice not to have to carry him out of the building and back in. I managed to convince him to climb a flight of stairs outside today, but they were rather shallow - and even so it took forever. When we got back to the apartment, he just planted his feet in front of the staircase and waited to be picked up. But hey, we're walking around outside! Baby steps. Here are my cellphone pics from today's walk: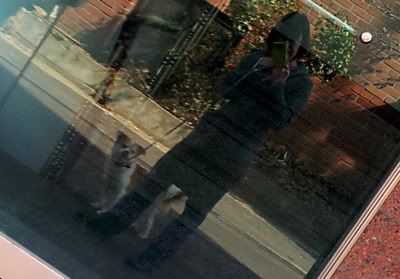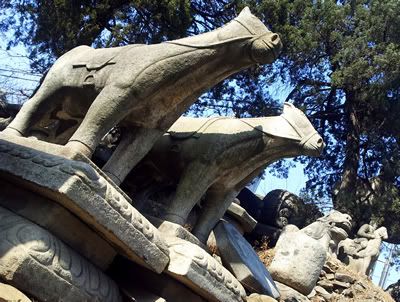 We found a rather bizarre collection of statuary...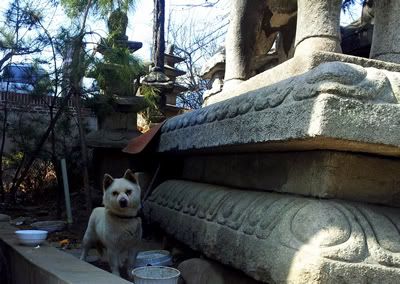 ...guarded by a distant relative.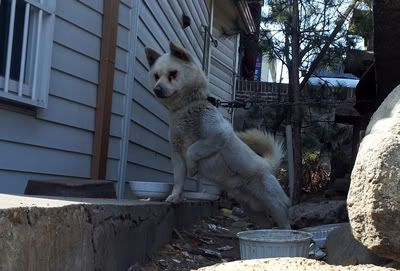 He wanted to play, but his leash was too short.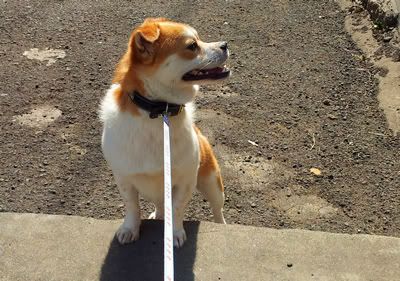 Mochi was interested, too.
Slowly climbing the stairs.

Mochi and I: Out and about in Seoul :-)