I spent the daytime hours yesterday running various errands - including a very successful if somewhat pricey trip to the
International Clinic
in Itaewon, and shopping for cat litter and kitty toys. Knowing that today (Sunday) was going to be wet and miserable, I knew that I'd need to get out and take some pictures if I wanted to get any shooting in this weekend, so I decided to go to the
Seoul Lantern Festival
, running November 4 - November 20, and held along the
Cheonggyecheon
- a reclaimed stream/park in downtown Seoul. I knew it would be crowded, but OMFG. I was so unprepared for the insane crush of people.
For starters, I emerged from the City Hall subway station into the middle of a huge anti-FTA /slash/ Occupy Seoul protest being held in front of City Hall and the Deoksu Palace gates, and surrounded by tons of riot police. While this is the sort of thing I might have actually gone to had I known about it (despite warnings against doing so from friends and coworkers; I am a contrary sort), it was thoroughly disconcerting to emerge from the subway into a crowd of chanting (but peaceful) protesters and riot police. I also didn't know what they were protesting, and it took a few minutes of wading through the crowd before I saw some signs that said FTA. I had no idea it was in any way affiliated with the Occupy movement until I read about it this morning on the internet.
Some articles about the protest are here:
And a photo not taken by me, which does not at all show the crazy huge crowd that I waded through can be seen here.
I only took one photo, after I'd finally cleared the protest zone, of the back end of the last row of riot police. I was trying to do it surreptitiously with my phone, so it's not the best: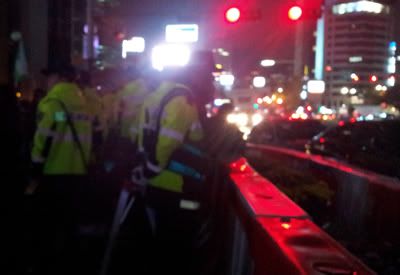 I finally made it out of the protest crowd and began making my way to the Cheonggyecheon. And the crowd grew exponentially. I swear at least half of Seoul (which I realize amounts to a good 9 million folks) had turned out to attend the festival's second night. I almost turned around and went home when I discovered that I and several million of Seoul's residents were to be crowded into a tight, winding maze - like we were in line for a ride at Disney, but worse - where I stood, edging slowly forward for a good hour, if not more, before I actually made it to the stream and the lanterns. If you go to this festival, either bring good friends with whom you can have interesting conversation, or bring headphones. Zoning out to my best of Amanda Palmer playlist was the only thing that kept me sane. (And I tried very hard not to think about what would happen if the protest only a couple blocks away got out of hand while I was trapped in this sea of people... Luckily, that didn't happen.) The lanterns - once I finally got to see them - did make for some fun photos, although I'm not sure I would have gone had I known how crowded it would be. Anyway, here are my photos: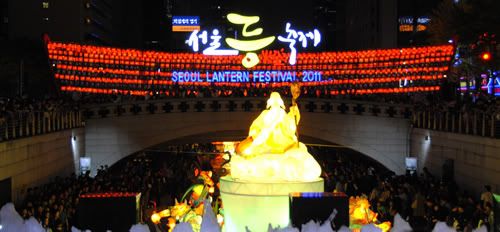 Not really the best of photos, but I'm posting it so you can see the crowds packing both sides of the stream, and lining the railing above.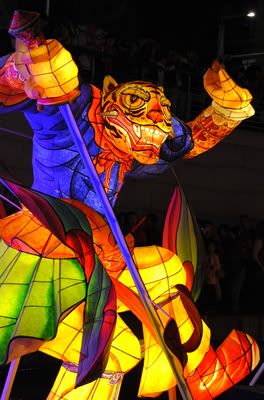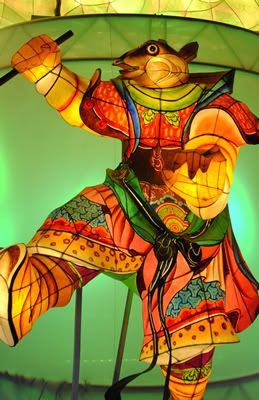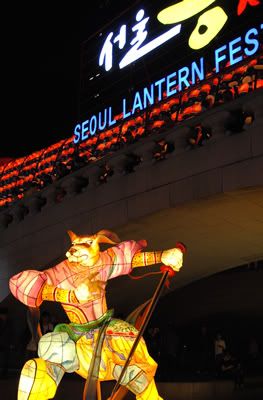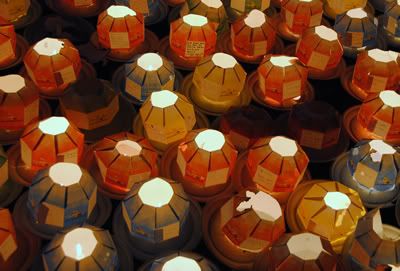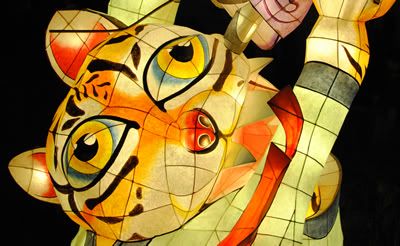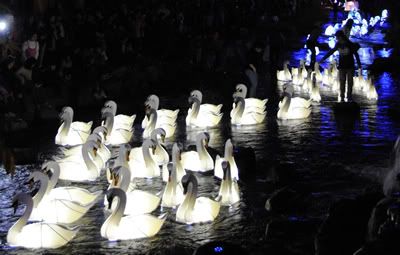 This ginormous peacock was animatronic - it flapped its wings and breathed fire. Check out the video below.
To see my complete set of lantern festival photos, CLICK HERE.