The
Chevy Spark
- formerly the
Daewoo Matiz
- will finally go on sale in the US in Fall 2012. I've been in love with the cute little car since I first spotted it on the Korean streets back in 2004. Now, I know that it's got a weak little engine, and I've never driven one, so for all I know I might actually hate it. Still, I really have wanted a green Matiz for years.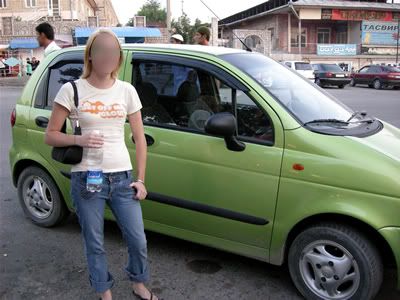 Me, with a Daewoo Matiz in Osh, Kyrgyzstan, 2008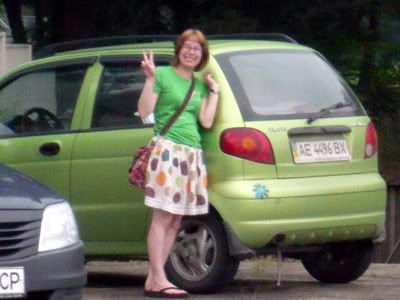 Me again, this past August... Dnepropetrovsk, Ukraine. May have been a few sheets to the wind at this point. Apparently, so was my photographer, B, as I don't even have to blur my face in this photo; he did it for me.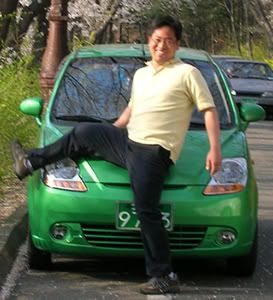 My friend G in Daegu, South Korea drove a Matiz for several years... yet somehow the only photo I have of it is this blurry one, with her husband doing god-knows-what to it. Spring 2007.
In 2010, the all new Matiz went on sale in South Korea. It was still called the Daewoo Matiz, complete with Daewoo logo and 'Matiz' emblazoned on the back (despite the fact that Daewoo technically no longer existed, having been purchased by GM). These pictures were taken during my very first sighting of the all new Matiz, down in Daegu, July 2010:

Note the Daewoo symbol on the front grill.
At the beginning of 2011, the Chevy Spark appeared in South Korea. By which I mean that all new Matizes carried the Chevy bowtie and had a new name.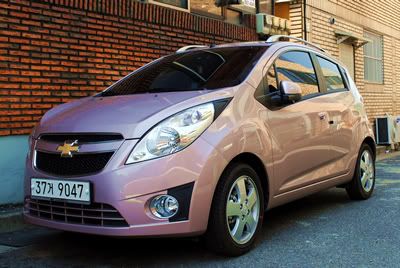 Yes, they come in colors other than green.
I read (and I can't for the life of me remember/find where) that the decision to go ahead and start marketing all former Daewoo cars under the Chevy moniker here in Korea was to make them more appealing. Daewoo was a Korean company. GM/Chevrolet (as surely you're aware) is an American company. The Korean lineup of Daewoo/Chevy models are still manufactured here in Korea (although elsewhere as well); you'd think that maintaining a Korean name would be a useful marketing tool... but according to the article I read (why didn't I bookmark it??), marketing cheap, domestically produced cars under the Chevy brand enables people to purchase 'foreign' cars - and the cachet that goes along with having an expensive import - without having to pay expensive import duties. Apparently this also enables dealers to charge more. Yeah.
Anyhow, the all new Matiz/Spark has been launched in various markets around Asia and Europe, but it has not yet gone on sale in the US... but it's coming. The 2013 Chevrolet Spark (identical in appearance to Korea's 2010 Matiz, but apparently with some added safety features required by the US) will go on sale in the US in fall 2012. Not sure what the MSRP will be, although it's supposed to be cheaper than the Chevy Aveo, which starts at $14k.

Taken yesterday, here in Seoul.
And in case you've been thinking that the Matiz/Spark looks familiar, you may have noticed it in Transformers 2 and 3:
I would like to own a Matiz... but I'm not sure it will happen. For one thing, if all goes as planned, I'll be entering grad school in Fall 2012 - not exactly the time to be shelling out for a new car, even if it's the cheapest Chevy has to offer. Besides, I already have a car, and despite its age, it runs great. My car (back in the US) is a 2003 Toyota Echo:

Taken in December 2008, several months before it ran afoul of a Ford Explorer and developed an unsightly dent in its driver's side door and front corner panel. Sigh. My fault.
Back when I bought the Echo, I was 100% set on getting a Honda Civic. Then I test drove one. I'm pretty convinced that there was something wrong with the specific car that I test drove, although the salesman tried to tell me that they were all like that, I just wasn't used to it. Hah. I left the Honda dealer and went straight to Toyota, and I fell in love with the way the Echo drove. Sure, it's got a weak little engine, but it was fun to drive. I've never driven a Matiz; I might have the same experience that I had with the Civic. Meanwhile, the Echo is still going strong, and it hasn't had a single problem. I wouldn't even be considering getting a new car if it weren't for the fact that it is currently my mother's primary vehicle. (Her other vehicles, a 1984 Chevy van and a 1997 Ford Escort wagon, definitely show their age, and are not exactly reliable.) I'd stick with Toyota, but... Toyota no longer makes the Echo; it's been replaced by the Yaris, similar in design to the Spark, but lacking in visual ooomph in my opinion. And it's certainly lacking in terms of color choices.