We returned to Kiev frightfully early on Wednesday morning. While the return train trip wasn't as traumatic as our train ride to Dnepropetrovsk, I hadn't exactly had a full night's sleep. And the Cat Lady needs her sleep. I spent most of the day resting in my apartment. Except for when we went for Georgian food.

On Thursday, D and his fiancee went off to some rural Ukrainian festival, and A had to work (via laptop/internet, poor sod), which left me, B, and N to wander around Kiev. After lunch at the Georgian restaurant, we decided to go and check out the Гидропарк - the hydropark. The hydropark has its own metro stop on the red line, which lets you off on an island in the middle of the Dnepr River. Yes, this is the same river we swam in down in Dnepropetrovsk, although it's far cleaner (at least to the eye) up in Kiev. The hydropark island is home to tons of small cafes, tons of walking paths, numerous stray dogs and cats, beaches for swimming, an abandoned amusement park, and a somewhat functional amusement park (consisting of machines from the abandoned one which still functioned). The weather was gorgeous, and we had an absolutely fantastic day, as photos will, of course, show:

One of the many stray dogs, all of whom looked quite well fed.
There were stray cats and dogs on the beach as well.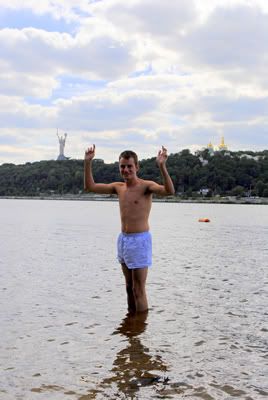 B decided to go swimming in his boxers. To be fair, I probably would've gone swimming in my undies, too, had I been wearing any.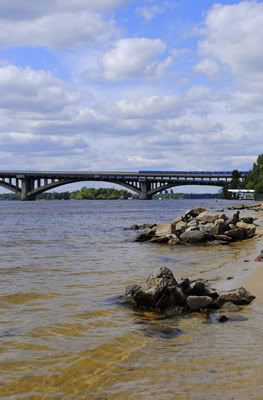 The train on the bridge is the Kiev Metro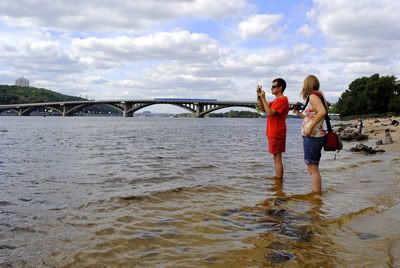 B and N
The first evidence of abandoned amusement park: Vinni Pookh and Petachok (Russian Winnie the Pooh and Piglet)
Second evidence of abandoned amusement park: Geni the Crocodile and Cheburashka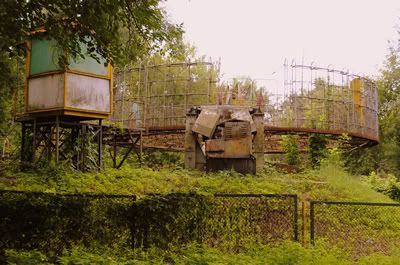 And then came the abandoned rides, overgrown with vines...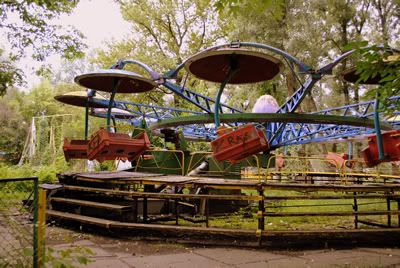 ...and in varying stages of decay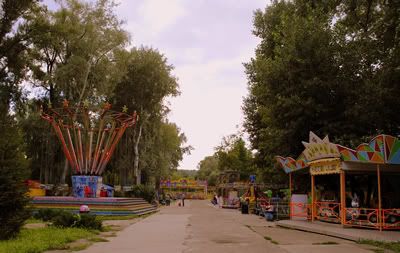 This was the street of rides which were still in operation.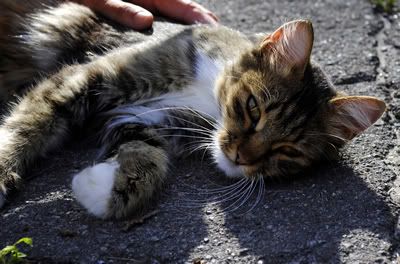 As we were leaving, we met the friendliest cat ever.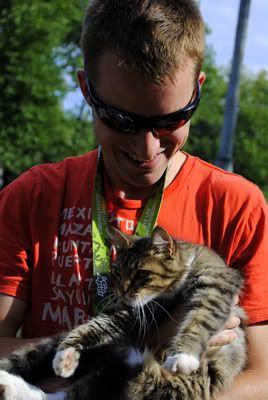 As you can see, B was very happy playing with her!
Unfortunately, when it came time to go, she wanted to follow us. Being unable to take her was heartbreaking :-(