It's been a busy couple of weeks around here, mainly because it was Halloween season - which, in my opinion, is the best time of the year. This year I was able to rock three different costumes, which made me incredibly happy. I do love a good opportunity to dress up.
On Friday, October 25th, a group of us went to go see the Rocky Horror Picture Show film and interactive performance put on by The Rich Weirdoes.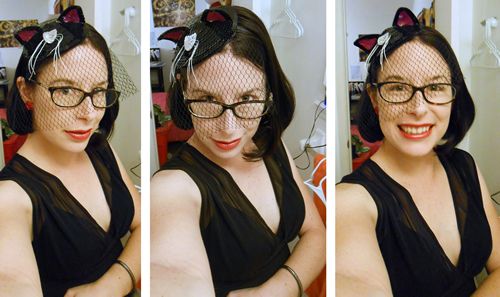 Security made M. take off his "FBI" jacket, because "someone might think he was a real agent." Um, OK. The show itself was pretty fantastic though. I've seen RHPS put on in smaller venues, but this was definitely the largest and most interactive version I've ever been to.
Saturday one of my classmates threw a kickass Halloween party.
I went as a flapper.
Mr. Green and Miss Scarlet from Clue, if you were wondering.
And then of course, I taught class on Thursday dressed as a Dalek. As you do. I'd say about half of my students knew what I was immediately. The others were like, "What's a Dalek?"
Thursday I also finished up my fifth and final lesson to my students on teaching English grammar to EFL/ESL students. Yes, we spent five days on grammar. You want someone to talk for six and a half hours (thirteen if you consider that I teach two sections) on English grammar, I am apparently your girl. The PowerPoint by itself isn't quite as great. For one thing, SlideShare has mucked up my formatting, and you can't see my animations. Plus, as I've mentioned before, I do NOT write every word I say on my slides - I hate it when teachers do that. As a result, reading the slides won't give you as much information as sitting through my class would have. However, if you're an EFL/ESL teacher new to teaching grammar, it should give you some useful pointers.