As I mentioned before, I will be spending the upcoming summer in Kyrgyzstan. I will spend two weeks traveling around the country, one week in Bishkek, and two months teaching English in rural villages. I knew that I would be spending the month of June in a small village called Kultor... and today I learned that I would be spending July in an even smaller village called Bar-Bulak (which has the advantage of being located less than two miles from the southern shore of Lake Issyk Kul). Anyway, here are some graphics to illustrate pretty much everything I know about Bar-Bulak, which admittedly is not very much.
A marks Bar-bulak, B marks Kultor. The black area at the top is Lake Issyk Kul.
According to Google Maps, it should take 23 minutes to drive from one to the other; however, given the state of the roads and the fact that there's a mountain range in between them, it's actually more like an hour and a half.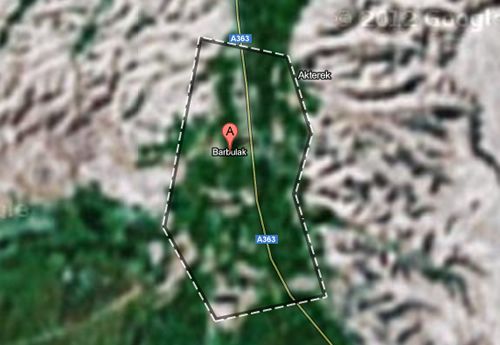 This is as resolved as Google Earth gets over Bar-bulak.