It feels almost like summer already down here in central Florida, which makes it hard for me to grasp the fact that it is, in reality, several months away. I am very ready for summer to get here. Not - like much of the rest of the world - because I'm looking forward to warmer temperatures, but because I will be going back to Kyrgyzstan.
As many of you know, I spent most of 2008 in Kyrgyzstan, and it was a wonderful, life-changing experience. I often wonder why I left, especially considering the shit-spiral my life fell into upon returning to the US.
(While my old blog, where I faithfully posted about my life in Kyrgyzstan back in the day is no longer online, I am working on pulling out the Kyrgyzstan posts, editing them for anonymity, and uploading them to Cat Lady in Kyrgyzstan. So far I've only uploaded posts covering January through mid-April 2008; I'm incredibly busy this semester, so I'm not sure when I'll get the rest of the posts online, but I'll do my best.) Feel free to watch this rather absurd video I compiled to get an idea of what my life in Kyrgyzstan was like:
The last time I was in Kyrgyzstan, I worked as an EFL teacher at The London School in Bishkek. (If you look closely at their website, you can see a lovely picture of me, wearing leopard print pajamas and stuffing my face.) This trip will be a little different.
The first part of my trip, several of us from Desolation Travel are meeting up for a two week jaunt around the country. We plan to start from Bishkek (the capital) and make our way through the nature reserve at Sary Chelek, the nuclear waste dumps at Mailuu-suu, the walnut forests of Arslanbob, the southern 'capital' of Osh, the town of Kazarman (about which we know essentially nothing), the lake Song Kol (if we have time), the wonderful village of Kochkor (one of my favorite places), and the fabulously desolate fishing village of Balykchy. After our two week whirlwind tour around the country, my travel companions will return home, and I will get to work.
I'll be spending June and July volunteering (arranged through The London School) in two different villages, where I will be teaching English. One of these villages will be Kultor (which is too small to rate a link on wikipedia), located about an hour's drive south of Lake Issyk Kul (the big lake you can see on every map of Kyrgyzstan). I'm not sure yet which village the second one will be. I am incredibly excited!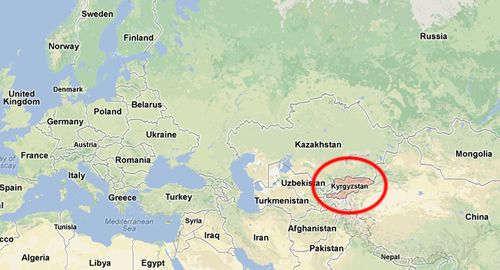 For those of you who don't know where Kyrgyzstan is located.

Our destination goals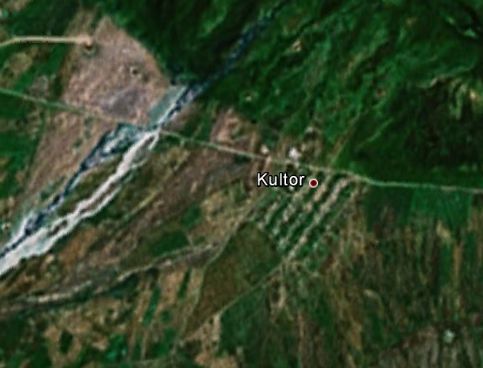 Google Earth's view of Kultor.