Well, the realtor supposedly in charge of selling off my dream house never bothered to get back to me, and while I could easily waste years of my life dreaming of this place, as I have no money and have heard nothing, I suppose I should do as the song says and 'if you can't be with the one you love, love the one you're with.' (Abysmal lyrics, actually, but fitting.) As the 'one I'm with' is a cute little house with the world's most boring lawn, I figured I should do something about it. I've started landscaping, and have put together two flowerbeds, one of which is quite large. I'm not finished with the large bed yet, but it's filling out quite nicely.
Here's the before shot. We started by trimming those trees you see on the right way back.

A closeup of the location of the large flowerbed.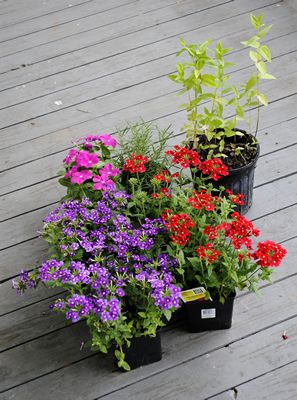 Some purchases: verbena (purple and red), periwinkle (pink), rosemary (rear center), and miscellaneous mint (upper right - it was sold to me at a yardsale by a man who claimed it was citronella plant, although after googling citronella plant, I have discovered that it definitely not what is).

Flower bed outlined, crepe myrtle planted.

Flower bed outlined with bricks, crepe myrtal, verbena, purslane, and lantana planted

Mint, rosemary, and mulch added.

This is what it currently looks like. You can also see the smaller bed (home to azaleas and periwinkles) between the front of the car and the left half of the porch.