Not having ever been remotely what one might consider wealthy, "fine dining" and "haute cuisine" and "champagne brunch" are not the sorts of phrases I tend to bandy about. But occasionally the family splurges. This weekend was one of those splurges.
My aunt and uncle (who live in Washington State) are in town for the holidays. They spent several days in town visiting my mom, me, and my other aunt, and then decided to spend a few days on the coast, over on Jekyll Island. F decided that we, too, should head over to Jekyll, if only for a night – his treat.
Saturday afternoon F drove up from Florida, picked me and mom up, and drove us to the island. Unfortunately, about halfway there I began sneezing. By the time we arrived, I wasn't just sneezing – I was suffering from a full-blown head cold. Luckily I had two DayQuil in my purse and we were able to buy some night-time cold meds at the grocery on the island. Still, Saturday evening wasn't the most pleasant for me… except for the food.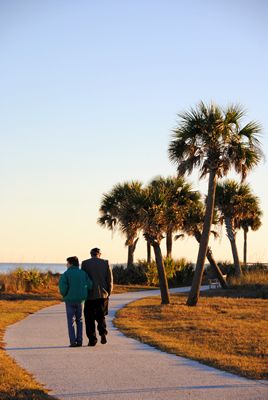 Mom and F, pre-dinner stroll
My aunt and uncle (who had already been on Jekyll for a few days) recommended a place where they had eaten called The Driftwood Bistro, and I am so very glad they did. I am also very glad that the DayQuil drove the worst of the cold away long enough for me enjoy the food.
The Driftwood Bistro is kind of difficult to find – it's on the northeast side of the island, and you access it via the entrance to a condo complex. The sign on the road doesn't really stand-out, so if you're just driving along looking for a place to stop and eat, you might miss it. The food was quite reasonably priced – cheaper than the popular sit-down restaurant chains like Red Lobster or Applebees, and MUCH tastier.
I ordered the Wild Georgia Shrimp and Grits (which their menu describes as fresh mushrooms, leeks, and country ham sauteed in white wine and finished with roasted red pepper cream over traditional garlic-cheddar cheese grits topped with deep fried Wild Georgia Shrimp) with a side of fried okra, for $10.95. And let's just say that every mouthful was a foodgasm: so incredibly delicious that I do not have the words to describe it. I certainly had never pictured grits and haute cuisine in the same category before, but… wow. Just, wow.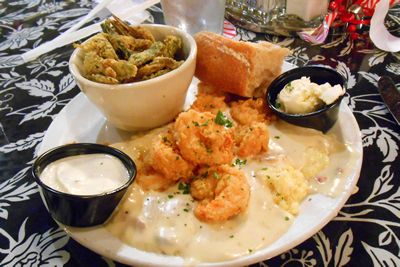 After dinner, I went to my hotel room and took my night time cold pills (aptly named Sine-Off, as they signed me off right quick). I was pleasantly surprised when I awoke in the morning to discover that my head-cold was no longer as virulent as it had been the night before, and it had settled into sinus pressure and the occasional sneeze. In other words, something tolerable. This was great news, as the main event, the reason we had come to Jekyll Island in the first place, was to have Sunday Brunch at The Jekyll Island Club (official website; wikipedia).
The Jekyll Island Club's famous Sunday Champagne Brunches are not cheap; luckily – as I said – this weekend was paid for by F. Here's the brunch menu if you're interested. The food was really quite excellent (although I have to admit that I preferred the previous evening's food) and the ambience was really incredible. Ever wanted to feel like a turn of the twentieth century robber baron? Want to imagine yourself hobnobbing with the Vanderbilts and JP Morgans of the world? We did. And as it was a buffet, we all overate. My favorite was the lox garnished with dill. Yum. Words can't really do this experience justice, but photographs, perhaps, might help: