Okay, so I haven't been blogging much lately, due to a combination of being busy with schoolwork and my assistantship and running up to Georgia and north Florida just about every other weekend. However, since people continue to read this blog (as mind boggling of a thought as that is) I thought I'd try to catch you up on the things that have been going on in my weird world.
First, alas, I have some very sad news. Poor little Blondie, one of the kittens I found on the side of the road this past summer, was killed over the weekend. She had discovered the cat door, and had started going in and out. However, having grown up with Brin, the kitten-friendly pit bull, she had no fear of large dogs. Apparently she would sit on the front gate and pounce on neighborhood dogs as they walked by. And this weekend she went into the backyard with Viktor and Kali, who are not cat friendly. Poor, poor baby. I'm assuming, however, that it was a quick death, and I expect that she just thought they were playing up until the end. Or at least I really want to think so.

Blondie is the one on the left :(
The rest of my time "up north" wasn't as depressing. The main reason for my trip was to attend an annual "fall feast" held in north Florida at the home of someone I went to high school with waaaaay back in the day. This was the first time I'd ever been, but it was so much fun. Here are some photos :-)

I lift my pinky as I sip my Bud Light. This is something I do subconsciously.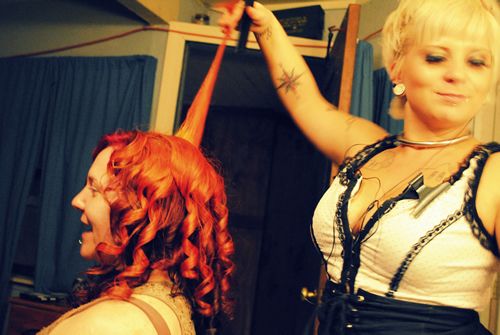 There was hairdressing for a fashion show.

And fancy make-up for some...

...and steampunk cranks for others.

My costume was geek. Haha. I dressed as me.
Besides, everyone was looking at the dominatrix anyway.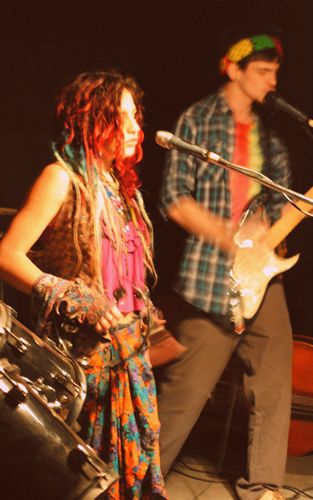 There were several bands.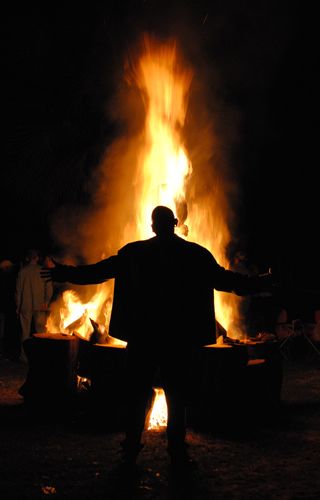 And a lot of scenes that reminded me of high school.
Or possibly Hell. Surely those two are interchangeable?

Also, I was shown how to shuck oysters. And ate a lot of raw oysters.
While drunk. And was not ill.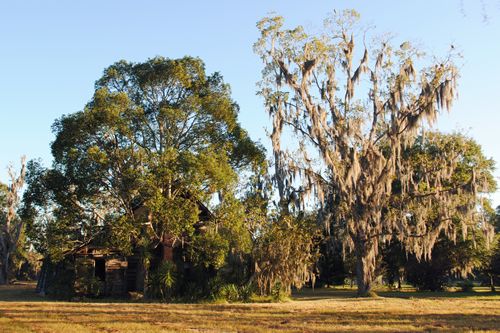 Amazingly, I was up at 7:30am. I am NEVER up that early. Apparently dawn light makes for cool photos. Who knew?
Back in Orlando... I was in class Tuesday night, and was given a tootsie roll by one of my classmates. As I was eating it, I noticed that it was crunching. Tootsie rolls aren't supposed to crunch. I thought that perhaps this is what tootsie rolls do when they get old, so I swallowed it and pretended nothing was wrong. Then I ran my tongue over my teeth, and discovered that half of that ginormous filling that I got in South Korea last year was missing. I sat through the rest of class trying not to freak out. It didn't hurt (unless I ate and anything went down the hole), although it did develop a dull ache. I was able to get an appointment at a dentist recommended to me by a classmate (Dr. John Russo - not scary at all!) for Thursday. I got all the Korean amalgam removed and replaced with ceramic, and I got a new cavity in the neighboring tooth filled as well. This is all wonderful and great, as I now have a mouthful of teeth that look like teeth, with no amalgam or gaping holes or cavities in sight. Unfortunately it cost $575, which rather left me wishing I'd gotten the gold tooth when it was on offer in Korea. Sigh. The dentist also said he could fix my ailing front tooth bonding (also acquired in Korea), but I'll have to put that off until I rebuild my bank account.