I have really got to stop telling myself that I will be able to go home for a few days AND do schoolwork, because it really never works out that way.
I left Orlando on Thursday afternoon and drove to Georgia. A friend of mine was taking her kids and a couple of others to the local Halloween party downtown, and invited me to come along. I dressed as a crewmember from the Battlestar Galactica. I would have loved to have gone as Starbuck, but being neither blonde nor anywhere near as badass, I just went as a random BSG crewmember. No one knew who I was supposed to be. I didn't expect any little kids to know, but several adults in my age bracket asked me what I was supposed to be. Most hadn't even heard of BSG. One didn't realize there was a 'new' series, saying, "Wow, that's going back a few decades."
That night I discovered that water was no longer flowing into my toilet. No, the knob in the bathroom that you can use to shut the water to the toilet had not been shut off. Nonetheless, no water was making its way into the tank. No idea why. Water everywhere else in the house is working just fine. I figured I'd just fill my tank up from a bucket each time I needed to flush and worry about this later. Like maybe Christmas break.
On Friday, mom went down to Florida, leaving me in charge of all the animals. I spent a lot of time out at the land, cleaning the trailer and playing with the kitties.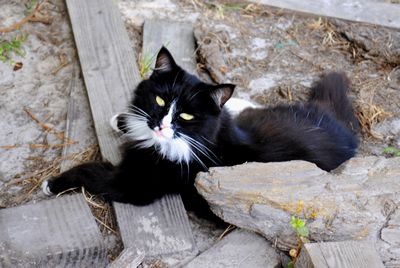 Bagira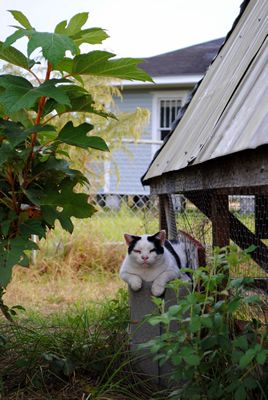 Buddy (who is very much NOT anyone's buddy)
Donnie's tail has grown even more absurd.
George
Clean Spartan!

With kitties going in and out all the time, it never stays clean, though.
When I wasn't out at the land, I was at mom's house, taking care of the animals there. Which mainly meant 'playing with animals.'
Some jackass spray-painted black all over mom's Obama-Biden signs. There is definitely a racial element to politics in this town. My mom's neighborhood is predominantly white, and there are Romney-Ryan signs all over the place. I drove through a couple prominently black neighborhoods, and only saw Obama-Biden signs. Mom's is the only sign up here that I've seen that doesn't fit that pattern… and take a look at the results:
I meant to spend Saturday night doing homework, but I confess that I spent it curled up in bed with Charlie, Mochi, and a good book.
Saturday wasn't particularly eventful, and I was able to finish grading an assignment for four sections of a class (over 100 students), but I didn't get any of *my* schoolwork done. I did, however, get a picture of my mom with her new car.
I'm back in Orlando now… time for a nap, and then some major schoolwork time.